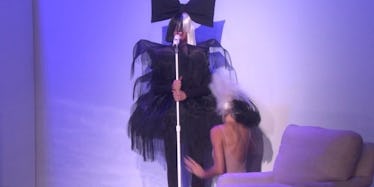 Ellen DeGeneres And Heidi Klum Danced To 'Chandelier' As Sia And Maddie Ziegler
YouTube
I don't know about you, but I listen to Sia's "The Greatest" at least twice a day. And before that song came out, I was bumping "Cheap Thrills" every chance I got.
In short, I love Sia.
The 40-year-old has been one of 2016's hottest artists, and the fact she's not a Millennial makes her even more awesome.
You know who else loves Sia? Ellen DeGeneres, of course.
For the Halloween edition of "The Ellen DeGeneres Show," Ellen dressed up as Sia and flawlessly performed "Chandelier" for her audience.
Speaking to her audience, DeGeneres quipped,
Happy Halloween, everybody! As you can tell, I'm Sia, and the problem is I can't really see ya. I made this costume myself. I found some old loofahs backstage. It was not that hard to make. And then the bow is from I gave away a car, recently. Sia and I have a whole lot in common. She's Australian, and I married an Australian, and we both like to swing from a chandelier — which is why I'm no longer welcome at Bed Bath & Beyond.
God, I love Ellen DeGeneres.
Anyway, as you can see in the video above, Ellen DeGeneres wasn't alone in her performance. The one and only Heidi Klum dressed up as dancer Maddie Ziegler.
Speaking on her co-star's outfit, Ellen DeGeneres said,
Not too many people could pull that off, but you look fantastic. You really do. You look fantastic.
I mean, Ellen is great and all in this performance, but props to Heidi Klum, right? Heidi Klum is 43 years old, but she has the moves of a 14-year-old professional dancer.
Also, the Sia wigs Ellen DeGeneres and Heidi Klum wore were unbelievably on point. No way these were made from some loofahs Ellen found backstage. I'm not buying it.
Now, excuse me while I go listen to "Chandelier," "The Greatest" and "Cheap Thrills" on loop for the rest of the day.
Citations: Ellen DeGeneres and Heidi Klum Perform as Sia and Maddie Ziegler for Halloween (E! News)