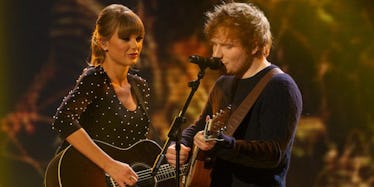 Ed Sheeran Says Taylor Swift Collab's 'Definitely' Coming And Fans Are Losing It
Rex/Shutterstock
Something big is about to go down, guys.
Finally, FINALLY, music's biggest BFFs, Ed Sheeran and Taylor Swift, are blessing the world with the collab we all deserve.
We have no idea when it's coming out, but the important thing is there will be a sequel to 2013's "Everything Has Changed," and that's enough to warm my cold heart.
Ed himself took some time out of his busy schedule promoting his new album, Divide, to confirm the duet to E! News.
He said,
It will definitely happen again, I don't know when it will happen, but yeah, it will certainly happen again in our lifetime.
He managed to say it three times in that one sentence, so it's safe to say it's actually happening, guys!
The big question mark is when, as everyone's favorite ginger singer previously confessed he has "a full year of Ed" coming up.
He told BBC News,
Taylor isn't going to be releasing until probably the end of this year - Christmas is the smartest time to release because that's when everyone buys records. So I've got a full year of just all Ed, all the time.
I mean, it makes SO much sense.
Ed and Tay Tay have been besties for a good few years now, and she is just as in love with his new record as everyone else is.
Naturally, fans are completely losing their minds over the big announcement.
People got what they wished for.
It's such a big deal, people are tweeting from beyond the grave!
I've got that feeling, too.
WHOA. Whoa. One step at a time.
Obviously, there have been rumors swirling that T-Swift and Ed used to be more than friends, but they've been besties for a while now, and it's actually pretty damn cute.
When Ed beat out Taylor for Song of the Year at last year's Grammys, she came out to say she was proud of her buddy. Aww.
Just don't leave us hanging too long for the new track, you two.
Citations: Ed Sheeran Reveals a Collaboration With Taylor Swift Will ''Definitely'' Happen at 2017 iHeartRadio Music Awards (E! News), Ed Sheeran interview: 12 random questions about ÷ (Divide) (BBC News)