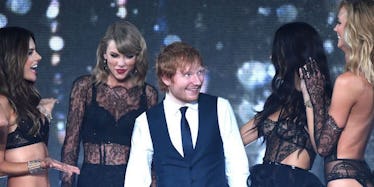 Ed Sheeran Has Low-Key Hooked Up With Members Of Taylor Swift's Squad
REX/Shutterstock
It's no secret Ed Sheeran and Taylor Swift are super close, and apparently Sheeran has used that friendship in the past to hook up with some of Swift's famous friends.
I guess that's the perk of being the only male member of Taylor's girl squad.
Sheeran opens up about his past flings with Swift-adjacent models and musicians in his new cover story for Rolling Stone, although he's classy enough to not name names.
Apparently, all these Sheeran-squad hookups went down in 2013, when Ed was the opening act on the North American leg of Swift's Red tour.
At that point, Sheeran was just beginning to blow up after the success of his debut single "The A Team," and the tour was much larger than his first major tour opening for Snow Patrol a year earlier. He explained,
Taylor's world is celebrity. I was this 22-year-old awkward British kid going on tour with the biggest artist in America, who has all these famous mates. It was very easy… I would often find myself in situations just kind of waking up and looking over and being like, 'How the fuck did that happen?'
So which squad members did Sheeran hook up with? That we don't know, although there seems to be a pretty resounding consensus Ellie Goulding was among them.
The two English singer-songwriters were rumored to have a brief relationship toward the end of 2013, which definitely fits within this timeline.
Though their relationship was never confirmed, a lot of Sheeran fans think he wrote his hit single "Don't" about Goulding, and vice versa for Goulding's single "On My Mind."
Beyond that rumored romance, it's anyone's guess which of Taylor's besties Sheeran hooked up with back then.
One thing Sheeran did make sure to clear up is he and Taylor have always been just friends.
The two gushed about each other in the new profile, in which Swift called Sheeran "the James Taylor to [her] Carole King" and Sheeran said he will "always stick up for Taylor."
Now, Ed Sheeran is finding love outside of the realm of celebrity — he's been dating his high school friend Cherry Seaborn for the past two years.
It must be a relief for him to be dating someone who (probably) won't write a song about him if they break up.
Citations: Ed Sheeran: Up All Night With Pop's Hardcore Troubadour (Rolling Stone)