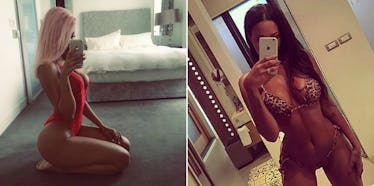 Meet The Insanely Hot Model Featured In Drake's Short Film 'Please Forgive Me'
Instagram
In addition to showing plenty of PDA with his new boo, Rihanna, Drake has been teasing the crap out of his new short video, "Please Forgive Me."
After dropping a seven different snippets on Instagram from the rumored video, Drake has finally released the full version of the short film.
As you can see in the video above, Apple's description of "Please Forgive Me" as an "explosive visual companion to #VIEWS" is pretty damn accurate.
Apparently, in the full version of the film, Drake travels the world while "One Dance" and "Controlla" play in the background. There also appears to be a pretty elaborate shootout scene in the video.
What, you thought those jams were just the soundtrack for turning up at the bar and folding laundry?
It's kind of hard to see but in the above clip for Drake's "Please Forgive Me," there's a pretty gorgeous woman who keeps making an appearance.
A little digging reveals this woman is none other than hot Belgian model Fanny Neguesha.
According to reports, 26-year-old Fanny Neguesha is a Belgian model, singer, dancer and actor, who was once engaged to Italian soccer bad boy Mario Balotelli.
Here's a closer look at the hot model who steals the show in Drake's film, "Please Forgive Me," Fanny Neguesha.
Sunday night, Drake dropped the full version of "Please Forgive Me," which prompted everyone to wonder who the hot woman featured is.
That woman is 26-year-old Fanny Neguesha.
The incredibly sexy Neguesha is a Belgian model, singer, dancer and actress.
Apparently, she was also briefly engaged to Italian soccer star Mario Balotelli in 2013.
Neguesha is of Italian, Congolese, Egyptian and Rwandan heritage, and she's absolutely gorgeous.
Not like he needs it, but much credit to Drizzy for finding this diamond in the rough.
While she's featured in Drake's "Please Forgive Me," the 26-year-old has plenty going on in her own right.
Neguesha is an artist with the French division of Def Jam Recordings/Universal Music, and you should really check out her single, "Number One."
In addition to slaying her appearance in Drake's short film, Fanny Neguesha is killing the Instagram game.
This sexy stunner has racked up roughly 700,000 followers on Instagram, and it's really not hard to see why.
Aside from her obvious physical assets, you have to appreciate a woman who knows what it means to hustle.
In today's world, and this is especially true for an artist, you have to have your hands in a slew of different pots.
Fanny Neguesha clearly gets it, and the proof is in getting the opportunity to work with someone like Drake.
So, you may have been unfamiliar with this queen before "Please Forgive Me" Dropped...
...but I guarantee you're going to remember the name Fanny Neguesha, and this definitely won't be the last time we see her doing big things.
Citations: Watch Drake's 'Please Forgive Me' Short Film (Complex), fanny.neguesha (Instagram), This Is Fanny Neguesha, The Lead Actress In Drake's Please Forgive Me Film (Fader)