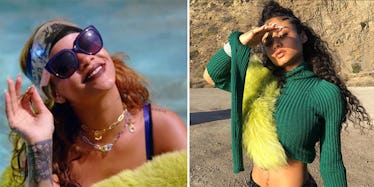 Everything You Need To Know About The Woman Drake Left Rihanna For
YouTube/Instagram
They say love is dead, and after hearing about Drake and Rihanna's break up, I'm begrudgingly inclined to agree.
The hottest couple of the summer is no more, and now that we've had a minute to digest this news, it feels like this relationship never really had a chance to make it past September.
Speaking on the split, a source reportedly told E! News,
Rihanna and Drake are seeing other people at the moment. They are not exclusive anymore. They still love each other, but their schedules have gotten in the way.
Schedules got in the way of true love? Damn, that's cold AF.
Speaking of the cold, it's mid-October and fall is finally here, which means Drake is on to the next.
ICYMI, Drake has reportedly moved on from Rihanna and is now dating the very gorgeous India Love.
According to another E! News source,
Drake and India Love have been hooking up for at least a few weeks.
Who knew?!
We already know who Rihanna is, obv, but who is Drake's new boo? What does she have that Rihanna doesn't?
Well, let's find out; here's everything you need to know about India Love.
News just broke about Drake leaving Rihanna for India Love, but the pair has reportedly been getting down for "weeks."
I mean, as much as we love Rihanna, it's not that hard to see why Drake has fallen so hard for India Love.
Rihanna is the baddest bitch in the land, but India Love might not be that far behind.
Love also appears to have a very similar hand tattoo as Rihanna, so maybe that's something Drake is REALLY into.
I'm not sure if Drake is into pets, but it appears India Love is all about that puppy love.
Like I said, Bad Girl RiRi is BAAAAAD, but India Love is definitely no slouch.
This model has a unique look and style, and I'm definitely starting to understand Drake's latest life decision.
What a time to be alive. So, what do y'all think?
Citations: indialove (Instagram), India Love: 5 Thing To Know About The Sexy Model Getting Between Drake & Rihanna (Hollywood Life)