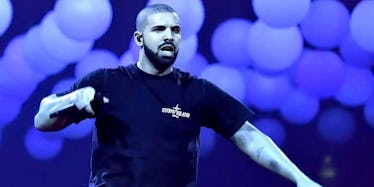 Drake Cancels His Show After Eating Bad Sushi And Fans Are Pissed In This Video
REX/Shutterstock
Fans eagerly waited to see Drake perform in Amsterdam on Monday night, but their dreams were crushed after a rep for the 30-year-old rapper took the stage to announce he wouldn't be performing.
The upsetting announcement quickly angered fans who began hurling random things at the messengers on stage.
It's not hard to fathom why fans would be pissed.
After all, this marks the third time Drizzy has canceled a performance in Amsterdam in the last three months. To top it all off, fans at the Amsterdam concert on Monday waited over 75 minutes for him only to be turned away.
But why exactly did Drake not perform? It's a little personal...
According to TMZ, the More Life rapper had eaten bad sushi prior to the show and was told by his doctor not to take the stage in Amsterdam.
Speaking of More Life, it sounds to me like Drake might've needed a bit "more rice" to keep that tainted sushi down!
The good news for the fed up Amsterdam Drake stans is their tickets will still be valid for the Toronto native's show on Wednesday.
Check out the moment angry fans began throwing things on stage as reps for Drake announced he wouldn't be performing.
After hearing the bad news, some fans hit the internet to sell their tickets for his show on Wednesday.
Wait, was it really food poisoning that grounded Drake or "was the bong too strong?" These are valid questions!
It turns out it might've actually been the sushi, though! Fans at Tuesday's night Amsterdam show received an apology from Drake.
Following a rough 24 hours, Drake hit the stage at the Ziggo Dome on Tuesday and plans to make things right on Wednesday, too.
See? It all worked out in the end, Drake stans! Patience is everything. As for Drake, I hope you learned your lesson when eating sketchy sushi...
Remember: MORE RICE!
Citations: Drake: Nothing Personal, Amsterdam... I Ate Bad Sushi!! (TMZ)