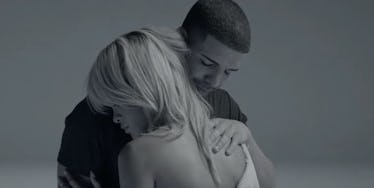 A Mysterious 'Drake And Rihanna' Website Popped Up And Fans Are Losing It
YouTube
Nobody panic, but Drake and Rihanna might be up to something BIG together.
What exactly they are up to is still up in the air, but on Tuesday, fans discovered a mysterious website called "drakeandrihanna.com" featuring a countdown to September 9.
No official source has confirmed this website is actually from Drake and Rihanna, but that's definitely Drake's logo at the bottom of the page, as seen on his album cover for If You're Reading This It's Too Late.
And what's more, this is exactly what Drake and Future did right before they released their mixtape, "What a Time to Be Alive."
Waiting on that Drake X Future Mixtape...countdown better be real pic.twitter.com/gR7HJowhh9 — Edwin (@eddyquart) September 19, 2015
OK, now you can panic.
But what does it MEAN? An album? A song? A music video? Is this the countdown to their wedding???
Fans are already freaking out about it.
What is this countdown on drakeandrihanna and why does it say 8 days — tess (@tess_penman) August 30, 2016
Seriously, I need to know what this means RIGHT NOW.
Though, honestly, Drake and Rihanna would watch paint dry together and I would still throw my money at them.
This is all coming a few days after Drake publicly declared his love for Rihanna at the 2016 MTV VMAs and then kissed her on stage.
I have a feeling this love story is about to get even more perfect.
UPDATE, 4:06 pm: According to a report from Fader, a source close to Rihanna says this website is fake and has "nothing to do with her/him." Drake's representatives have not yet commented. I guess we'll have to wait and see!