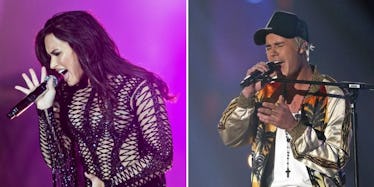 Fans Are Comparing Demi Lovato's New Song To A Bad Justin Bieber Remix
REX/Shutterstock
Justin Bieber's latest album clearly had a big impact on Demi Lovato. She just dropped her new single, and it sounds like a Bieber B-side that he cut from "Purpose."
So, I'm warning you now: When you hear this song overplayed on every radio station next week and you immediately think, "Is this a new Just Bieber song?"... it's not.
Not only does the music in "No Promises" mimic the laid-back electro-pop that has recently become Bieber's trademark, but it also literally sounds like the Biebs is singing on the track himself. (He's not.)
Though Demi sings most of the song herself, she trades lines with a male vocalist from the DJ group Cheat Codes in the chorus, and his voice is literally indistinguishable from Justin Bieber's.
Of course, Demi isn't the only singer to recently jump on the mid-tempo EDM-pop bandwagon Justin Bieber popularized. Just a couple of weeks ago, Selena Gomez teamed up with Kygo to release their take on the genre with "It Ain't Me," and it's become the bread and butter of groups like The Chainsmokers.
But "No Promises" definitely sounds the most Bieber-y (Bieberiest?) of all. A lot of fans are pointing out that it sounds like one Bieber song in particular: last year's collaboration with DJ Snake, "Let Me Love You."
Most people were confused on their first listen, thinking that Bieber was actually featured on the track before realizing he wasn't. Fans are also saying it sounds like The Chainsmokers.
Take a listen to "No Promises" for yourself and see how long it takes before you start hearing the Bieberiness (probably, like, three seconds).
But honestly, should we have expected anything else? Since the massive success of Bieber's "Purpose" and soundalike downtempo electro-pop singles like "Closer" by The Chainsmokers and "Hotline Bling" by Drake, pretty much every pop star has been dipping their toes in the EDM trend that's taking over the Top 40.
At this point, I wouldn't even be surprised if Adele puts out a woozy club-thumper produced by Calvin Harris.