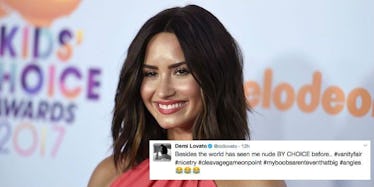 Demi Lovato Claps Back After 'Nude' Photo Leak: 'My Boobs Aren't Even That Big'
REX/Shutterstock, Twitter
Leave it to Demi Lovato to laugh off a nude photo leak scandal! The singer apparently became the latest victim of misogynistic hackers recently, but she didn't let them get under her skin. In fact, she had the best response ever to the whole situation.
A photo reportedly of Demi Lovato lying in bed with her top unzipped began circling the internet in the last few days, according to Page Six.
On Tuesday night, Demi responded to the photo with amusement, laughing about the fact that people are "freaking out" about the leaked photo, which she says isn't even nude, it just shows a lot of her cleavage.
Another reason the "nude" leak wasn't so jarring for Demi is she's come to accept and show off her body much more in the past few years.
She went on to point out that she's posed nude or in revealing outfits numerous times in recent years, and even shaded the leaked photo as being photoshopped by writing that her boobs aren't as big as they are in the image.
Of course, Demi made a huge statement to the world about accepting her body and sexuality when she released her sultry music video for "Cool for the Summer," which featured the singer in a much more provocative wardrobe than ever before.
And as Demi pointed out in her tweet, she also posed nude in a photo spread for Vanity Fair towards the end of 2015. The photo shoot feature Lovato posing in a bathtub without clothes or makeup, geared towards her authentic and self-accepting reinvention.
This also isn't the first time that Demi Lovato has been involved in a nude photo leak. Demi was one of the many celebrities targeted in the infamous iCloud hack of 2014 that resulted in numerous private photos of celebrities to be leaked online.
Unfortunately, now it appears as though these celebrity photo leaks are happening more often again.
A couple months ago, private photos and videos of numerous young male actors like Tyler Posey and Cody Christian were being passed around the web. And just last week, Emma Watson revealed she's had private photos stolen from her.
Hopefully this disgusting trend dies down again very soon.