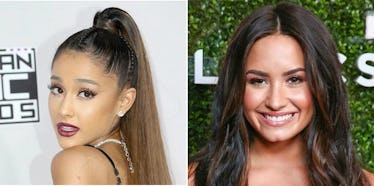 Demi Lovato Reveals Why She Won't Perform At Ariana Grande's Benefit Concert
Frederick M. Brown/Rich Fury/Getty Images
Ariana Grande will return to Manchester less than two weeks after the horrific attack at her show to perform a concert benefiting the victims and their families.
The 23-year-old Dangerous Woman singer will be joined at the concert, titled One Love Manchester, on June 4 by Justin Bieber, Coldplay, Katy Perry, Miley Cyrus, Pharrell Williams, Usher, Take That, and Niall Horan.
One artist who will not be performing is Demi Lovato, and some people really want to know why.
Well, the explanation isn't all that complicated. According to Teen Vogue, in the comment section of the above Instagram post, Demi answered, "Cause I wasn't asked."
So I guess that clears that up.
Except, wait... it's the internet.
Apparently, fans feel Demi should be included in the lineup because of her emotional response in the wake of the attack on May 22.
The next day, Demi posted a photo of her and Ariana to Instagram with the caption,
I'm so sorry you had to go through this Ari.. This isn't fair and nobody should have to go through this. My thoughts and prayers are with you and the victims. I love you so so so much
She also posted the official benefit concert announcement on Wednesday.
It seems like people just want to get worked up about something and for whatever reason, they've chosen this. Demi's to-the-point response sparked quite a lot of debate.
Some people started throwing shade at Ariana, suggesting there might be a rift between the pop stars. Others jumped to her defense.
User forrevergirl wrote,
Ariana is friends with a lot of celebrities, she can't ask every single one of them.
User michellenangelina chimed in,
The one who made that is Scooter Braun, Ariana's manager. He has a right to choose any singers he want. If it's Ariana who made that, she will choose Mac, Camila, Demi...
Meanwhile, others felt Demi shouldn't have answered the question the way she did. User natashavalesk wrote,
Demi is so immature. She knows what that comment will make. She's not stupid but Demi this is NOT about you
A few people took to Twitter to vent frustration with the ridiculousness of all the internet hate.
In the aftermath of an attack that left 22 dead and dozens more injured it's upsetting to see people fighting on social media about a concert that is meant to spread love.
Perhaps we could all take a cue from Demi's and Ariana's messages of hope and unity.
Citations: Demi Lovato Explains Why She Isn't Performing at Ariana Grande's Manchester Benefit Concert (Teen Vogue)