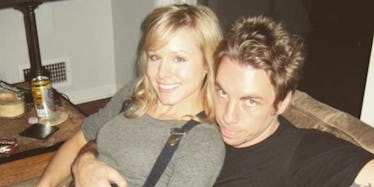 This Throwback Pic Of Dax Shepard And Kristen Bell Will Gross You Out
Instagram
Don't worry: Dax Shepard knows exactly how lucky he is to be married to Kristen Bell.
No offense to Dax Shepard, but considering Kristen's talent, success and overall adorableness, she's a tad out of his league.
And now, thanks to this throwback picture of the couple Dax shared on Instagram (on a Monday, not a Thursday), I can say with certainty Kristen was WAY out of Dax's league when the two met.
The "Parenthood" star wrote in the caption,
9 years ago. And unfortunately that bottom lip isn't from injections, it's Skoal. That's right, I landed @kristenanniebell while in the throes of a nasty dip habit. Thanks for being an optimist, honey.
Yep, you read that correctly. Dax Shepard was using chewing tobacco when he got together with Kristen Bell, who was already famous from "Veronica Mars" at the time.
Dax must have had some really funny jokes, that's all I'll say about that.
The couple first got together in 2007, after Kristen broke up with her fiancé Kevin Mann. Dax and Kristen got in engaged in 2010 but didn't actually get married until California legalized same-sex marriage in 2013.
Never forget Kristen's proposal on Twitter after the Defense of Marriage Act passed.
Of course, I am very grateful Kristen was apparently a saint when she was 30 because now these two are one of my favorite Hollywood couples.
After all, who else would play Settlers of Catan after the 2017 Golden Globe Awards?
You think Ryan Reynolds and Blake Lively would ever do something that cute and nerdy? No. Absolutely not.
And who else would take their Christmas card photo with another couple, and kiss the wrong the spouse in the photo?
Isn't that quirky and hilarious?! What did Blake Lively do, post an awkward Instagram with Taylor Swift and Tom Hiddleston?
Yeah. It just doesn't compare.
So, thank you Kristen Bell, for putting up with a gross habit from your husband so that I may be charmed by your relationship.
Citations: Dax Shepard Shares Sweet Throwback Pic With Kristen Bell From When They First Started Dating (Entertainment Tonight)