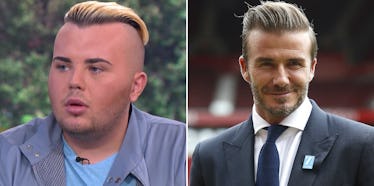 This Guy Wants To Become A David Beckham Lookalike With $60,000 Procedures
YouTube/REUTERS
Meet Jack Johnson, a young British teenager with one goal in mind -- looking exactly like David Beckham. Seriously.
I am not kidding. The 19-year-old has already spent nearly $26,000 on plastic surgery procedures to accomplish his goal of looking like the 41-year-old soccer superstar. Now that's dedication.
Jack Johnson appeared on an episode of a British morning show called "This Morning," in which he spoke about all of the procedures he's already had done as well as the future procedures he plans on going under the knife for.
So far, John has managed to fork over thousands of dollars for skin-tanning injections, mouth reconstruction and a bunch of facial filler procedures.
Just by watching Jack Johnson's interview, you'll be able to tell immediately that he hasn't yet nailed his appearance modeled after David Beckham.
You be the judge.
That's probably why he plans on spending an extra $39,000 to get the job done.
Perhaps the craziest part about this is that Johnson is unemployed. According to Complex, the British teen has been using money from loans to pay for his transformation up until this point.
The baffling talk show segment also goes into great detail about how Jack Johnson plans to live a much more David Beckham-like lifestyle once he's done upgrading himself.
In other words, not only does Johnson want Beckham's distinct facial features, but he also wants to live his superstar life. You know, the one that also comes with a net worth of over $350 million and countless achievements.
During the interview, Johnson said,
I want to be on the friends list of Nicki Minaj, Beyoncé, Drake and Katie Price. One day, Simon Cowell will be picking up the phone to me.
You have to admit, this dude's dreaming BIG.
Check out the video above for a closer look. Do you think Jack Johnson is well on his way to looking like David Beckham?
Citations: British Teen Plans on Spending More Than $60,000 on Plastic Surgery to Look Like David Beckham (Complex)