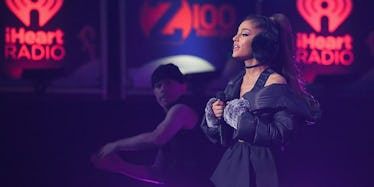 Dad Pens A Heartfelt Open Letter To Ariana Grande And It'll Make You Ugly Cry
Nicholas Hunt/Getty Images for iHeart
On the evening of May 22, 2017, an explosion occurred at Manchester Arena in the UK, where an Ariana Grande concert was taking place.
Following the explosion, which police confirmed killed 22 people and injured at least 60 more individuals, Grande tweeted that she was "broken."
The whole tweet read, "broken. from the bottom of my heart, i am so so sorry. i don't have words."
But one father of three young girls from Georgia wants Grande to know it's OK she doesn't have words, as this awful attack wasn't her fault.
Patrick Millsaps, who describes himself as "Morgan, Alison & Kendall's Daddy," tweeted out a touching open letter to Ariana Grande that'll move you to tears.
Millsaps began the letter by saying,
I am the father of three daughters — ages 13, 12 and 12. So, you have been a part of our family for years. On occasion your songs have stayed on the radio AFTER I have dropped the girls off at school. I will neither confirm nor deny that I have personally seen every episode of Sam and Kat.
Throughout the letter, Millsaps has two overarching messages for Grande, along with one small request: He wants her to know this isn't her fault, take care of herself on her own terms, and sing again when she's ready.
"You don't have a dadgum thing to apologize for," Millsaps wrote. "If some jackass had gotten drunk and killed someone with his car next to your hotel in Manchester, would you feel responsible?"
He continued, "You are no more responsible for the actions of an insane coward who committed an evil act in your proximity than you would be for a devastating natural disaster or acts of morons near your hotel."
Millsaps also urged Grande not to listen to any "experts" who try to tell her how to react to this event or how to process it, because "these 'experts' don't have a freaking clue what you are processing right now."
Finally, he encourages Grande to continue to sing (when she's ready). He wrote, "Music is the international language of peace. Every time you open your mouth and share that incredible God-given gift to the world, you make this crappy world a little less crappy."
Needless to say, Twitter (and I) are an absolute mess over this dad's sweet, sweet words.
"In that tweet you could feel her anguish, and I just thought that if she was my daughter, this is what I would say to her,'' Millsaps told TODAY.
He also left Grande with some inspiring parting words that the singer would do very well to listen to: "Take care of you first. Your fans aren't going anywhere."
If only we all had a dad like Millsaps to give us some touching "redneck love."
Citations: Fans take solace in father-of-three's letter to Ariana Grande (Twitter)