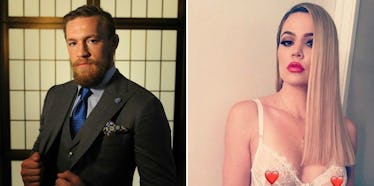 Conor McGregor Makes Fun Of Khloé Kardashian's 'Big, Fat' Butt In New Interview
REX/Shutterstock/Instagram
At the moment, UFC champion Conor McGregor is all over the news thanks to the rampant rumors he's getting closer and closer to a super fight with boxer Floyd Mayweather.
However, the 28-year-old Irishman is making headlines this Wednesday thanks to his appearance on the cover of the Spring 2017 issue of GQ Style.
I have to say, McGregor looks good in print.
In addition to posing for the cover of GQ Style, McGregor apparently did an in-depth interview with the magazine, in which he was his typical loud, brash and boisterous self.
Specifically, Conor McGregor chatted with GQ about wanting a piece of the $4.2 billion the UFC was sold for last year.
He reportedly said,
I want to negotiate what I'm worth. I want to put my analytics forward, man-to-man, and be like, 'This is what I'm owed now. Pay me.' And then we can talk.
Speaking on Mayweather, the 28-year-old fighter said,
He's got a little head on him. Honestly, my fist is bigger than his head.
Typical.
What wasn't typical, though, were McGregor's alleged comments on one Khloé Kardashian.
McGregor was apparently on "a $2 million trip" to Malibu while doing the interview with GQ.
In talking with GQ's Zach Baron, McGregor reportedly said he wanted to see all the Kardashian sisters in Malibu.
Why?
Elaborating on that point, Conor McGregor said,
Maybe I'll search for Khloé's big fat ass -- she's been floating around Malibu. I don't give a fuck about them. I just like to see them in the flesh. Yeah, just see what the big fat asses on them look like. Not about admiring. Admire? Never. What's the saying? Never put the pussy on a pedestal, my friend. I just want to see it. I want to see them.
This is a little messed up, no?
Like, what does Conor McGregor mean exactly? Say what you will about Khloé Kardashian and her sisters, they're not zoo animals.
I know Conor McGregor has a reputation for being something of a, well, asshole, but he's gone a bit too far here.
Citations: Conor McGregor Makes Some Wildly Disrespectful Comments About Khloé Kardashian (Complex)