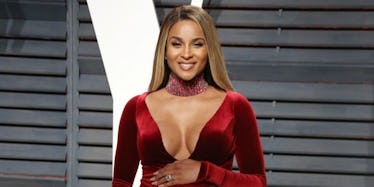 Ciara's Topless Pregnancy Photo Shoot Puts Beyoncé's To Shame
REX/Shutterstock
February 1, Beyoncé shocked the entire world by announcing she's pregnant with twins.
Instead of revealing her big news in some boring interview, Queen Bey announced her pregnancy by sharing an incredible professional photo on Instagram.
To caption the above photo, Beyoncé wrote,
We would like to share our love and happiness. We have been blessed two times over. We are incredibly grateful that our family will be growing by two, and we thank you for your well wishes. - The Carters
As it turned out, the above artsy photo was one of several photographs the 35-year-old posed for as part of a full pregnancy photo shoot.
Incredible, right? Well, move over, Bey, because singer Ciara just starred in her own topless pregnancy photo shoot, and it's, well, quite breathtaking, really.
Don't believe me? Take a look for yourself.
Ciara partnered with Harper's Bazaar magazine for her topless pregnancy photo shoot, producing results everyone involved can be proud of.
The 31-year-old pop princess is of course expecting her first child with husband Russell Wilson, the starting quarterback of the NFL's Seattle Seahawks.
Ciara described her relationship with Wilson to Harper's Bazaar, saying,
When you know they're going to be your champion, always in the corner...
Clearly, the former University of Wisconsin quarterback is a champion on and off the football field.
Ciara also spoke about her ex, rapper Future, and their very publicized split.
She said,
If someone's not supporting you and your vision and your dream -- whether it's your relationship partner, your friend, whomever -- then you've got to make sure to keep it moving. If people aren't lifting you up, even if you're the strongest person in the world, eventually it does chip away at you. You don't even realize that you're losing yourself. And that's the scariest place to be in life. I don't want to lose myself. I love myself too much. I love life too much.
Speaking on how excited her 2-year-old son, Future Jr., is to become a big brother, Ciara said,
He'll randomly pull my shirt up and be like, 'I want to see the baby. Hello, baby. How you doing, baby? I love you, baby. OK, talk to you later, baby. Bye, bye.' Then he'll kiss me on my belly and put my shirt back down.
Ciara is clearly gushing as she prepares for her first child with Russell Wilson.
She also talked about how she feels with this current place in her life. The "Goodies" singer said,
I'm just super excited about this time in my life. Like, Oh my gosh, I can see my son running around, and soon it's going to be two of these creatures running around! Our hands will be full of non-stop action.
Best of luck, guys!
Citations: Ciara Poses Topless and Opens Up About Her Second Pregnancy (E! News)