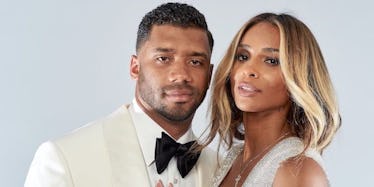 Ciara And Russell Wilson's Baby Girl's Name Is Just Like Bradley Cooper's Daughter
REX/Shutter Stock
When it comes to picking the perfect baby name, Ciara and Russell Wilson — like most celebrities — rose to the occasion.
The two welcomed their 7-pound, 13-ounce baby girl on Friday, April 28, and it is safe to say creativity struck in the delivery room.
Looks like Bradley Cooper and Irina Shayk's daughter, Lea de Seine Shayk Cooper, might have some competition in the out-of-this-world name department because what Wilson and Ciara picked for their daughter's middle name is so perfectly Hollywood.
The happy parents filled us in with a sentimental Instagram post about their new addition (though she is not pictured). Have a look:
There you have it, folks — Sienna Princess Wilson. I told you they rose to the occasion. It's the perfect mix of sweet and trendy, if you ask me.
They kept the caption short and sweet: "No matter how big the wave, we will always be your calm in the storm. We love you."
Sienna Princess is the couple's first child together, though Ciara is mom to 2-year-old Future Zahir from a previous relationship with the rapper, Future.
Ciara and Wilson have been anxiously awaiting their little arrival, judging from the singer's Instagram posts throughout her pregnancy.
We have to hand it to her, she certainly worked that baby bump.
Here she is on the beach in a classy black-and-white photo highlighting her pregnancy:
We can't forget about that dynamite LBD and super-high heels.
I don't have a bun in the oven, and I wouldn't wear those heels on a good day. Major props, girlfriend.
Future Zahir, lots of hands, and Ciara's belly even got in on the action in another shot.
Ciara also decided to show some pregnancy love in her Calvins.
Again, major props. I usually stick to Instagramming my weekly flower purchases to avoid putting any photo of myself online, and here's Ciara in her undies rockin' it. You go, girl.
In the coming weeks, I'm sure we're in for a treat on Instagram with updates on Baby Sienna Princess.
In the meantime, if you're getting impatient, don't forget April the giraffe will soon have a name for her calf.
Citations: Ciara and Russell Wilson Welcome Daughter Sienna Princess (InStyle)