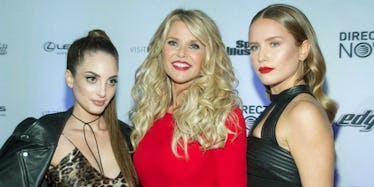 Christie Brinkley Is 63 But Looks Identical To Her 18-Year-Old Daughter
REX/Shutterstock
Supermodel Christie Brinkley is 63 years old, but she's clearly had more than a few sips from the Fountain of Youth.
About a week ago, Brinkley announced her return to the Sports Illustrated Swimsuit issue by posting a ridiculously sexy photo with her two daughters, Sailor, 18, and Alexa, 31.
All three women are gorgeous, but somehow, Christie Brinkley managed to steal the show.
To caption the above photo, the 63-year-old stunner wrote,
Yes! I am excited to announce that I am back in @si_swimsuit .. I figured with my gorgeous daughters @alexarayjoel and @sailorbrinkleycook by my side whose going to be looking at me! ... and thank you Sports Illustrated for sending the powerful message that good things come in packages of every size and we do not come with an expiration date!
Christie, you definitely do not have an "expiration date."
The fun didn't end with just the above photo, though, because Christie Brinkley and her two daughters attended the Sports Illustrated Swimsuit 2017 launch event in New York City Thursday night and absolutely crushed it.
No, they weren't wearing bikinis, but the Brinkley ladies dazzled just the same on the red carpet.
These women, especially Christie, are unbelievable.
Like, no disrespect to 18-year-old Sailor and 31-year-old Alexa, but Thursday, it was mama's night to shine. Just take a closer look at the 63-year-old Christie Brinkley.
I keep writing her age because I'm having a hard time believing it's accurate.
SLAY, CHRISTIE! SLAY!
Speaking on her appearance in the 2017 Sports Illustrated Swimsuit issue, Christie Brinkley said,
My first thought was, 'At my age? No way!' When I turned 30, I was like, 'This is the last time I'm posing in a bathing suit!' When this issue comes out, I'll be 63. I thought, 'Those days are over.' But to get to do it with my girls, I thought, 'One last go!'
Speaking on their Sports Illustrated swimsuit shoot, Brinkley's daughter Sailor said,
I want to be 60 years old posing in a bikini, and I want to be that empowering to all women, and I think all of us represent a different thing for women. It's age-ism, it's body image issues, it's just being confident in yourself. I think that's really important, and I think that representation in those areas is really important, and I'm glad we can do that.
Brinkley's other daughter, Alexa, added,
You know, I've always really admired, well, mom, I have to say, because she has the bombshell hourglass figure. If you look at old Sports Illustrated covers, features of her, she doesn't look like a stick. She's not, like, the standard runway models -- she has curves, she has actual hips, you know -- and it's a beautiful thing, and she always rocks it, and that's a part of why she looks so healthy.
Keep crushing it, Christie Brinkley!
Citations: Christie Brinkley Stuns in Red Jumpsuit Alongside Daughters Sailor and Alexa at 'Sports Illustrated' Event: Pics! (Entertainment Tonight)