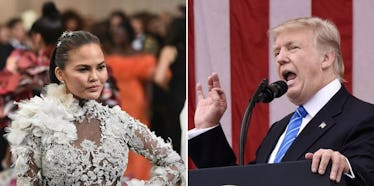 Chrissy Teigen Trolled Trump After His Viral "Covfefe" Tweet And It's Everything
Mike Coppola/Getty Images for People.com and Olivier Douliery/Getty Images
If you woke up on Wednesday morning wondering where to get your morning "covfefe," then you clearly hung out on the internet last night.
Just after midnight, President Trump sent a now-viral tweet that included a word very much not included in the English dictionary: covfefe.
"Despite the constant negative press covfefe," the tweet read.
The Washington Post reports the tweet, seemingly an unfinished thought with a typo, received more than 127,000 retweets and 162,000 likes before it was deleted.
Of course, it didn't take long for Twitter to explode into a mixture of wondering what the heck the president meant and hilarious jokes and memes.
Chrissy Teigen -- model, mom, and Twitter Queen -- never misses an opportunity to add her voice into the mix of Twitter hilarity, especially when it comes to trolling Trump.
The hilarious Lip Sync Battle co-host quickly fired back,
@realDonaldTrump you are so insane that I pray every day I am a sim being played by aliens
The people of Twitter seemed to really enjoy that particular take on the current state of the White House.
However, about an hour later -- after "covfefe" was full-on trending -- Teigen sent a follow-up tweet expressing her true feelings on the situation: sadness and anger.
While it took Trump several hours to delete the tweet, he finally did replace it -- and he kind of got in on the joke?
He wrote,
Who can figure out the true meaning of 'covfefe' ??? Enjoy!
Ummm, I think it's safe to say the internet more than enjoyed trying to figure it out.
This is far from the the first time Teigen has had some witty comebacks for Trump. In fact, the 31-year-old has been trolling him since 2011.
When it comes to Trump, Teigen and husband John Legend are very much on the same page.
Earlier this year, the singer poked fun at the size of the crowd at Trump's inauguration. He tweeted a pic of the crowd with the caption,
Landing in DC for a special @undergroundwgn screening at the @nmaahc! As you can see, millions are gathered in the National Mall, awaiting my arrival!!
It's not all jokes and Twitter clapbacks, though. Legend has publicly urged others to "resist and speak out" against the administration.
As for "covfefe," it's still trending on Twitter as of Wednesday morning.
I think it's safe to assume this won't be the last time a Trump tweet sparks such a response, but perhaps he'll start using spellcheck. Maybe?
Citations: Chrissy Teigen responds to Trump's 'covfefe' tweet with a hilariously brutal burn (Mashable)