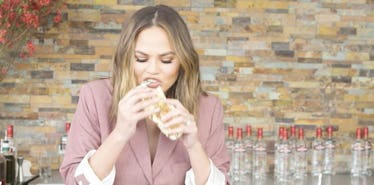 Chrissy Teigen Proved She's The Ultimate Taco Bell Fan With This Guessing Game
Youtube
Oh, you think you like Taco Bell? How much would you say you like it, on a scale from one to Chrissy Teigen?
The supermodel, Harper's Bazaar and Smirnoff recently got together to challenge Chrissy to a Taco Bell taste test challenge, AKA the most fun thing I think I've ever heard of, and she proved once and for all she is T to the B's biggest fan.
Her mission? To distinguish three different dishes and establish which of the food items were Taco Bell or an imposter.
I don't think I need to tell you where this is going, but if I must... she nailed it.
Chrissy explains,
I'm going to figure out which one on these plates is Taco Bell, and I think I already know so get ready.
And boy did she.
Each plate was paired with a delicious Smirnoff beverage and had my mouth watering so hard I straight-up ordered 17 dollars worth of Taco Bell for lunch. #NOREGRETS.
First up? Nachos.
Out the gate, John Legend's beautiful wife and baby mama knew what was up. She said,
I can tell right away that this is too fancy... not that Taco Bell isn't fancy.
It's OK, Chrissy. Taco Bell know's what it is and what it isn't.
For one thing, Chrissy points out that it doesn't "deliver well," mentioning that one of her favorite TB dishes is Cool Ranch Doritos Locos Tacos.
They don't deliver well. They always come crushed up into a million pieces, but that's when you just put it in a bowl and you eat it fork and knife.
Which begs the question -- you guys ordering your Taco Bell for delivery or nah? And, follow up question, you guys eating your Taco Bell with a fork and knife or also nah?
Answer: DOESN'T MATTER. TEIGEN DOES WHAT TEIGEN WANTS.
This angel left us with this wisdom we will carry with us for the rest of our lives, and probably get tattooed on our backs: "Sometimes the burrito or taco is just the vessel to get the hot sauce inside my body."
Such grace. Such wisdom. Such truth.