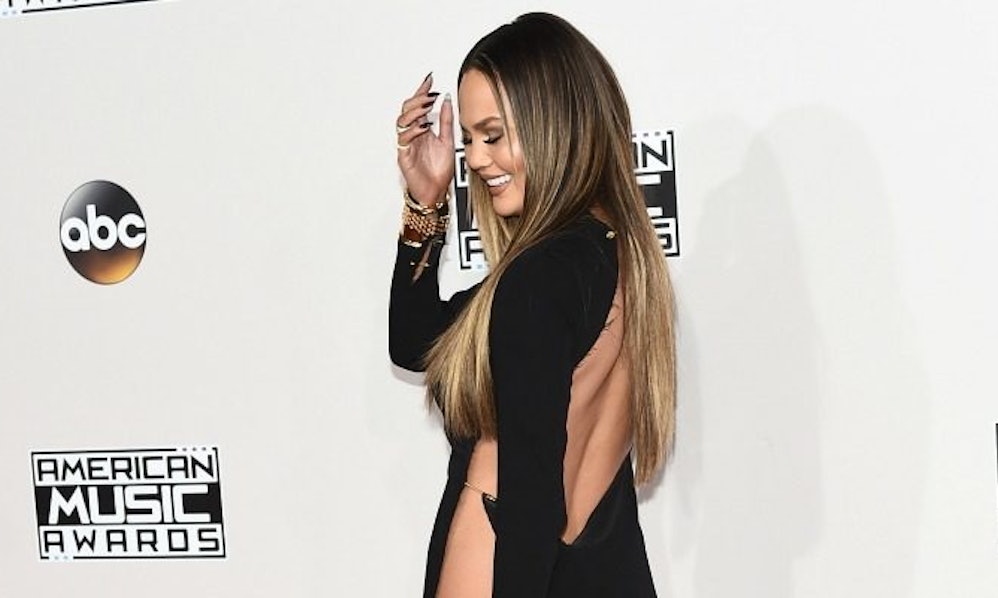 REX/Shutterstock
Chrissy Teigen Didn't Feel 'Sexual' Until After Giving Birth
Chrissy Teigen is arguably the sexiest mommy in Hollywood, but according to a recent interview she did for the January issue of Elle Australia, the 31-year-old didn't always feel so hot about her body.
Despite the fact she's never hated her body, Teigen revealed she didn't think of herself as sexy until after she gave birth to daughter Luna back in April of this year.
She said,
I always felt like a bit of a tomboy, and I never looked at my body as particularly sexual — I wasn't a curvy girl. But to be able to see my body afterward, and of course you get, like, hips. Finally, for the first time, I feel like I have a bit more of a womanly figure… I think you just feel really feminine.
This is really interesting. I think there's a prevailing perception out there that says after a woman gives birth, she loses her sexual figure. It's beyond awesome and refreshing to hear Chrissy Teigen say — for her at least — this simply isn't true.
In the Elle Australia interview, Teigen also got real about dressing her new sexual body. She said,
I only shop online, basically. Whatever my stylist Monica Rose puts me in, I order it in every color, in usually two different sizes because I fluctuate.
Again, it's so cool to see the former SI cover model keep it so real. You've got a winner, John Legend, but we already knew that, didn't we?
Teigen also opened up about the fact she feels so comfortable in her own skin, she actually prefers to work "completely naked" instead of wearing a bathing suit.
The 31-year-old model, mom and cookbook author said,
I would much rather shoot completely naked than in a swimsuit, it's just always been my thing. I've never been much of a beach girl. I grew up in Washington — it's freezing in that ocean. So it's out of my comfort zone, and it's the craziest thing that I'm probably most known for Sports Illustrated, when that's how I feel the most uncomfortable.
CHRISSY TEIGEN BRINGING THE BRUTAL HONESTY, AND Y'ALL CAN'T HANDLE IT! Well, maybe you can.
In any event, I hope women everywhere, those with children and without, heed Teigen's words and realize it's all about feeling sexy in your own skin.
Back in August, Teigen also shed some light on the fallacy of post-baby bodies in Hollywood. She said,
We have nutritionists, we have dietitians, we have trainers, we have our own schedules, we have nannies. We have people who make it possible for us to get back into shape. But nobody should feel like that's normal, or like that's realistic.
Preach, mama! Preach!
Citations: Chrissy Teigen Says She Never Viewed Her Body as 'Particularly Sexual' Until She Had Daughter Luna (People), Check Out Chrissy Teigen's First Post-Baby Shoot For ELLE Australia's January Issue (ELLE Australia)