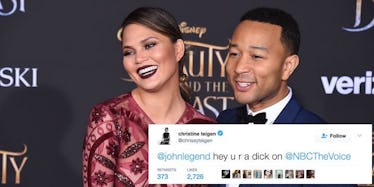 Chrissy Teigen Can't Stop Making Fun Of John Legend On Twitter And It's Epic
REX/Shutterstock/Twitter
Look, we all know Chrissy Teigen and John Legend are the ultimate relationship goals couple.
First of all, they're both rich and successful. Which means they get to do cool things like take trips to Morocco together.
So, yeah, that's a pretty much the first goal I have for my relationships.
Second of all, they both seem to love and respect each other a lot. I'd say that's goal number two for me.
Third, because of said love and respect, they have reached a place where they can gently — or not so gently — give each other shit. Like, a lot of shit. Mostly from Chrissy Teigen to John Legend. Publicly. On Twitter.
If that's not relationship goals, what is?
It started late Sunday night, when Chrissy admitted she didn't sleep in her bed without John, but not out of love.
Then she revealed her wedding to John did not move her to tears, but the "Vanderpump Rules" wedding did.
John, meanwhile, was very sweetly and sincerely declaring his love for his wife over on his Twitter.
This declaration was prompted by Chrissy's angry response to Fox News tagging her in a tweet.
But Chrissy's reply was... less than romantic.
Which, to be fair, she seemed to realize.
Things escalated while Chrissy was live-tweeting John's appearance on "The Voice."
Like, things escalated very quickly. Chrissy was full-on hazing.
This included calling her husband a dick three times and accusing him of having diarrhea one time. John seemed to take it in stride, though.
Sadly (or maybe happily), she couldn't get any back up on said hazing from strangers.
But honestly, who in their right mind would ever tweet that sweet, lovely, angel-voiced John Legend "sucks?"
No one. No one would tweet that.
Look, I don't know how this borderline bullying is relationship goals, but somehow it is.
Long live Chrissy Teigen and John Legend, the best couple in Hollywood.