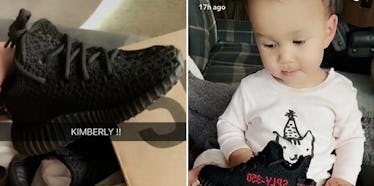 Saint And North West Got Baby Luna Yeezys, So Your Valentine's Day Sucks
Snapchat
Here's something you definitely know already: Chrissy Teigen's daughter, Luna, has a better life than you do.
At the very least, little Luna is definitely having a better Valentine's Day than you are.
Seriously, homegirl's not even 1 year old yet, but she already has a pair of Yeezys.
The whole thing is so unfair, I could barely watch Chrissy's SnapStory documenting the unboxing. But for you guys, I persevered.
First I will say that though I am seething with jealously, Luna looks incredibly adorable today.
She always looks cute, but this Valentine's Day filter makes her even more cute.
Anyway, so this package arrived for Luna, signed from Saint and North West.
The note read,
Luna — Happy Valentine's Day beautiful baby girl! Lots of love,  North and Saint
(Obviously they were actually from Kim, but the gesture is sweet.)
And yup, inside was the tiniest pair of Yeezys I've ever seen.
It's official: This infant is now cooler than all of us.
She's even cooler than her mom now, a fact that Chrissy acknowledged.
In the video snap, Chrissy said,
Oh my gosh, Kim and Kanye! My baby is doper than me! My baby is cooler than me.
Yes, yes she is Chrissy. Sorry, but it's true.
OK, fine. Luna has Yeezys. Luna is cooler than I am. I accept this.
But can we talk about the fact that these are supposedly a Valentine's Day gift from North and Saint West?
First of all, I had no idea you were supposed to get babies gifts for Valentine's Day.
Second of all... is this low-key implying Luna is either North or Saint's valentine?
Like, I'm not going to speculate on Luna's sexuality yet, but I am going to speculate she will date either North or Saint by the time she turns 20. You read it here first.