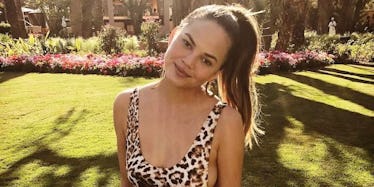 Chrissy Teigen Posts Adorable 'Last Day' Photo From Morocco With Baby Luna
Instagram
It would appear Chrissy Teigen's dreamlike getaway to Morocco with husband John Legend and their 11-month-old daughter Luna has come to an end.
Last weekend, we reported on the 30-year-old model's most recent lavish family trip. I say "lavish" because Chrissy Teigen kicked off her voyage overseas by sporting a $15,000 airplane outfit instead of sweats.
At that point, we just knew Chrissy and John were headed somewhere special.
It turns out they all spent quality time together in the exotic African city of Marrakech. Let's recap, shall we?
John Legend seemed to be having fun as he hung out with street performers and their slithery snakes.
Chrissy Teigen looked gorgeous as she donned a long gown and visited the city's beautiful sights alongside John.
Baby Luna was pictured enjoying her time a local market with her super awesome parents (adopt me, please).
She's not even a year old yet, but she rocks that pashmina effortlessly.
The highlight of their trip to Morocco was definitely the part when Luna was caught doing some "light vacation reading."
Or was it the camels? Tough call.
Chrissy would probably agree it was the camels...
Um, yeah, 100 percent!
Unfortunately, all good things must come to an end at some point...
On Wednesday, Chrissy Teigen shared "last day" photos with her "love" Luna as they geared up to depart Morocco.
Luna looks ready to return home.
Actually, maybe not. It seems like she's totally fine with staying an extra night or two!
It's good to see that Chrissy Teigen and John Legend are able to find time for themselves despite having a newborn baby on their hands.
In a past interview with Entertainment Tonight, Chrissy expressed how grateful she is she's able to find "me time" with John, saying,
We're very lucky to be able to do that. Not a lot of people can do that: can go on date nights, can have a sitter, have someone take care of their baby. 'Me time' is important, but not everybody can do it.
In other words, they so needed that trip to Morocco.
As for the rest of us, I think it's our turn to embark on an adventure overseas somewhere. It's been long enough. Quick, someone find a warm place with enough camels, snakes and pashmina scarves to go around!
Citations: Wild Pair! Chrissy Teigen Shares Adorable Snap of Herself and Luna on the 'Last Day' of Moroccan Vacation (People)