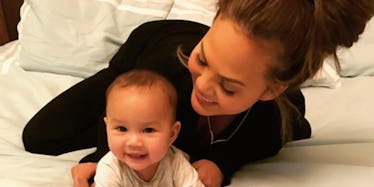 Chrissy Teigen Is Looking For Luna's Halloween Costume, And We Have 9 Ideas
Instagram
Halloweekend 2016 is only TWO weeks away.
Most of us are making a game plan for the parties we're hitting up or hosting and what we're going to be.
Sugar skulls with the squad? A dalmatian and firefighter with bae?
Decisions, decisions...
This year also marks Chrissy Teigen and John Legend's baby Luna's very first Halloween.
Chrissy revealed to E! News she's having a tough time finding a costume for Luna.
She said,
I've been looking online for costumes but I cannot find anything for a 6-month-old. They're always sold out or it's for older [kids], or a little too adult. She can't do anything!
The 30-year-old model continued,
Selfishly, I always think of my own costumes during the summer, but then by the time Halloween comes it's no longer funny. We're going to work our costumes around [Luna's], so we'll see.
Finally, Chrissy reached out for advice, saying,
If anyone has a costume, an old costume, for a 6-month-old, send it to me!
Let me just drop in here to say it's impossible for little Luna to not grace her first Halloween with the utmost amount of cuteness.
In my opinion, baby Luna would look so dang adorable in just about any costume, and here are some ideas I had in mind...
This yellow chick in an egg is just too cute to handle.
There's nothing like candy corn to get you feeling the Halloween vibes.
Have you ever seen a lobster cuter than this one?
And how about this lion?
A baby mermaid deserves glitz and glam.
This sweet pink cotton candy is oh so fluffy.
A magical unicorn would not be complete without her tulle and sparkles.
And my personal fave is this costume: a bowl of spaghetti.
JUST SAYING, Chrissy... I dressed up as Raggedy Ann when I was 7 months old.
My grandma actually handmade my costume with the intent of dressing it on one of her Raggedy Ann dolls, BUT I ended up rocking it for Halloween.
If sweet baby Luna wants to borrow it for her very first Halloween, I'd totally be down. Just hit a girl UP.
Citations: Chrissy Teigen Is in Search of a Halloween Costume for Baby Daughter Luna--and She's Taking Suggestions! (E! News)