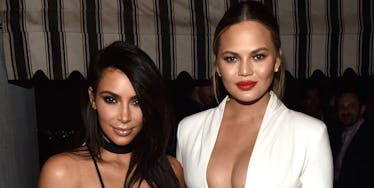 Chrissy Teigen Opens Up About Kim Kardashian's Robbery: 'My Heart Sank'
REX/Shutterstock
Chrissy Teigen has opened up about the terrifying robbery that took place in Kim Kardashian's Paris hotel room earlier this month.
The "Keeping Up with the Kardashians" star was held at gunpoint and robbed by five masked men, and now her good friend is speaking about what happened.
The 30-year-old model told Us Weekly,
I was really scared. I knew something was really wrong when that video of [Kanye West] running off stage [at the Meadows Music & Arts Festival] came about... He's not the type to do that. I remember my heart sank, and to hear the full story, it was really scary. It could have happened to anybody.
When Kanye West starts Heartless and then stops the show because of a family emergency pic.twitter.com/0xiPDycb4g — Chloe (@itschloet) October 3, 2016
Chrissy continued,
Hearing the details and knowing she has babies at home and that she's so sweet, open and honest, you don't think that kind of thing could happen.
Since the incident, Kim Kardashian is spending time off social media and reconsidering how much of her life she makes public. Chrissy commented on this, sharing,
We both live our lives like an open book. That's why her fans love her. They love seeing the ins and outs of her life, their home, their relationship. We share all of that and don't think that someone dangerous could see that and do something violent with that information. I share the inside of my home every day — so many parts of our lives we share. But she's OK. Kim is OK and it could have been so much more horrific, so we're happy that she's OK.
This isn't the first time Chrissy Teigen commented on the robbery.
Immediately after the news broke, she went to Twitter to defend her friend from haters who joked about what happened.
On Friday, October 14, Chrissy's husband, John Legend, gave his own statement about the robbery. He told SiriusXM's "Sway In the Morning,"
I think we have to be careful about [Snapchatting] and things like that, because people know exactly where you are when you're snapping because it's contemporaneous. It's happening right at that moment where you are. You just can't go through life in fear all the time, and we try not to.
As previously reported by Elite Daily, Kim Kardashian is receiving professional counseling to help her move past the incident. She is on the road to recovery but still "badly shaken" by what happened.
From the sound of it, it looks like Kim needs the support of friends and family now more than ever. Thanks for being there for her, Chrissy.
Citations: Chrissy Teigen On Kim Kardashian Robbery (Us Weekly)