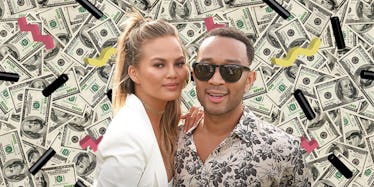 Chrissy Teigen And John Legend Show Off Their Insane New Home On Snapchat
REX/Shutterstock
Ugh Chrissy Teigen, stop showing off how much richer and cooler than all of us you are on Snapchat!
Eh, I can't even be mad at her. She's just too charming!
Plus, don't lie. If you had the means to buy an awesome $14 million mansion with John Legend, you totally would. And you would definitely Snapchat the whole thing, just like Chrissy did.
The couple began moving into their new luxurious home in Beverly Hills back in January.
The move seems to be coming along very nicely, if Chrissy Teigen's snaps from this Wednesday are any indication.
Allow me to share my favorite bits of this ridiculous mansion they have.
1. This terrifying dog picture that Chrissy seems to think will be great for her baby Luna's room.
2. The fact Chrissy and John have a fireplace in their BEDROOM.
3. This huge-ass bridge in the middle of their living room that John was waving from.
4. This weird chandelier that looks like alien pods.
5. Baby Luna using a pestle and mortar, as a nice reminder she is going to grow up in this luxury.
Man, her childhood is going to be something all right.
OK, so next step — when are Chrissy and John going to invite me over?
Citations: Chrissy Teigen gives tour of her beautiful $14.1 million Beverly Hills Mansion with John Legend... but it's still a work in progress (The Daily Mail)