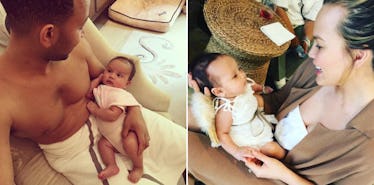 Chrissy Teigen Reveals What She Hopes Luna Inherits From Her And John Legend
Instagram
Chrissy Teigen is one of the most admirable people I've ever had the privilege of meeting.
She's a Sports Illustrated model, the co-host of "Lip Sync Battle" and a chef with a bestselling cookbook, "Cravings: Recipes for All the Food You Want to Eat."
On top of that, she also partnered with Stella Artois to share tips for hosting this holiday season.
The 30-year-old star may have a lot on her plate right now -- no pun intended -- but her biggest priority is being a mom.
Elite Daily sat down with Chrissy Teigen to discuss her cookbook, plans for the holidays and her adorable daughter, Luna.
Their baby girl is only a few months old, but Chrissy is already looking forward to the advice she hopes to give Luna as she grows.
When asked about the greatest lesson she wants to teach her daughter, Chrissy told ED,
I think compassion definitely, especially right now... but I think a lot of people lack empathy and compassion and understanding of other people's feelings, and I think for us, we want her to be very emotional.
She continued to explain how she and her husband are both very emotional people, so she has a strong desire for Luna to inherit that trait. She shared,
I like that John describes me as emotional, I would do the same thing with him. I want her to have passion and things that she loves and to do everything to the best of her ability and to do things she loves only... and to be vocal about when something's wrong and when she wants to stand for something… so for us I think teaching her how to be a good human comes before anything.
Even before homework?! I guess so. Chrissy said she values kindness over everything. She explained,
Before we're gonna be crazy about her homework or slam her face trying to read... for book reports, I think more than anything we want to be proud of the fact that she's a good person.
I couldn't agree more. I hope to instill the same mindset into my future child one day. CALM DOWN, MOM. I DON'T EVEN HAVE A BOYFRIEND, IT'LL BE LIKE 10 YEARS TIL I HAVE A BABY.
This will be the first holiday season Chrissy gets to experience with Luna and she couldn't be more excited. She said,
I think I'm most excited for her to see -- she loves nature, I don't know where it comes from because I'm not that kind of person -- but when she sees a [Christmas] tree in her home, I think she's gonna freak out because she thinks trees are an outdoor thing.
Chrissy got into the holiday spirit on Tuesday night while hosting a "King's Feast" celebration for Stella Artois' Host One to Remember campaign.
Chrissy worked with Chef Bart Vandaele to cook up her original recipe, Spicy Mussels with Stella Artois, and his classic beef stew.
It was definitely a night to remember and a great way to start this holiday season.
Thanks for the good times, Chrissy! If you want to cook for me on Thanksgiving too, I definitely wouldn't mind.