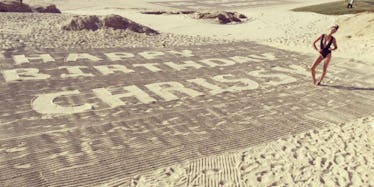 John Legend Did The Sweetest Thing For Chrissy Teigen On Her Birthday Vacation
Instagram
Is there a couple that's cuter than John Legend and Chrissy Teigen?
The answer is 100 percent, without a doubt, no. It is impossible.
No one is cuter -- not your grandparents who have been together for over 60 years, not your neighbor who donated her kidney to her significant other to ensure her survival and certainly not anyone who could be labeled "high school sweethearts."
Just look at this adorable birthday message John Legend gave his wife on her birthday.
*Quietly sobs while singing "All of Me."*
Teigen, who turned 31, can be seen posing next to her message in a FIT black swimsuit.
The two are celebrating the big day in Los Cabos in Mexico. He also posted this picture of his wife.
He wrote,
Happy birthday to my queen. You are beautiful, bright, funny, passionate and so inspiring. Your presence makes my life and our world so much better. I LOVE YOU!
Teigen seems to be enjoying her day as well because according to her Twitter, she was already tequila drunk at 11 am.
Honestly, if Teigen and Legend aren't your #relationshipgoals, you are doing something wrong with your life. You don't respect yourself enough to find true love.
Legend admitted that he started to fall for his wife of three years because of her wit. He said,
I started falling in love with her over the phone because she is good with those 140 characters. She's so good and she's so clever. I started to see that right away with her. Like, 'Wow, she's really impressive.'
Ugh, that's adorable. She also apparently doesn't mind making stew on her birthday.
Chrissy Teigen is such a BAE.
However, even the most delicious of pork stew probably doesn't hold a candle to the birthday wish she received last year.
It came in the form of President-elect Donald Trump's retweet...
The future president of the United States has REKT a number of people on Twitter. It's truly unprecedented.
Teigen, naturally, enjoyed the reminder.
Happy birthday, Chrissy!