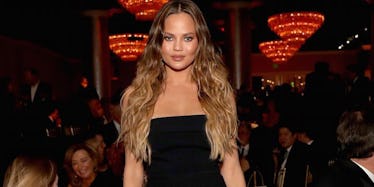 Chrissy Teigen Was Involved In A Hit-And-Run Car Accident In LA
Rex/shutterstock
Model, social media star and TV host Chrissy Teigen was reportedly involved in a car accident last night, according to E! News.
The alleged hit-and-run incident took place in Hollywood around 7:30 PT on Tuesday. According to police, Teigen was sitting in the passenger seat when her car was hit, but walked away from the accident unharmed.
The unnamed suspect behind the crash was arrested shortly after on misdemeanor hit-and-run charges.
Teigen is clearly doing fine, though. I've honestly never seen anyone be this nonchalant about being in a car accident as she has been.
Shortly after she was in the accident, she tweeted,
Got hit by a speeding loon while turning and he fled but cops were right there. Cops who talk to E!, apparently. Not a big deal. I'm good!
She followed up with another tweet, saying,
I got out of the car and was like phew that was kind of a boring day anyhow.
She then got over the incident and went back to tweeting about the REAL issues, shortly after writing,
Bravo changed their logos and fonts and I'm uncomfortable I don't like change of any kind
It hasn't exactly been the best past few weeks for the "Lip Sync Battle" host. While attending the Super Bowl in Houston with her husband, John Legend, Teigen had a not-so-great wardrobe malfunction.
Unfortunately, the slip ended up on TV.
Things are looking up, though, for the 31-year-old Sports Illustrated model as she and John recently announced the whole family, including Luna, would be joining him on his Darkness and Light Tour.
During a Facebook Live, Legend talked about how he was excited for his family to join him on his upcoming tour, telling viewers,
The awesome part of this tour is my family is coming along. This'll be Luna's first tour. She'll be there, so I won't have to spend a lot of time away from my family. That's the subtitle of the tour: Darkness and Light Tour: Luna's First Tour
Thank God Chrissy is doing OK!
Citations: Chrissy Teigen Unhurt After Being Involved in Hit and Run Car Accident Near Hollywood (E!)