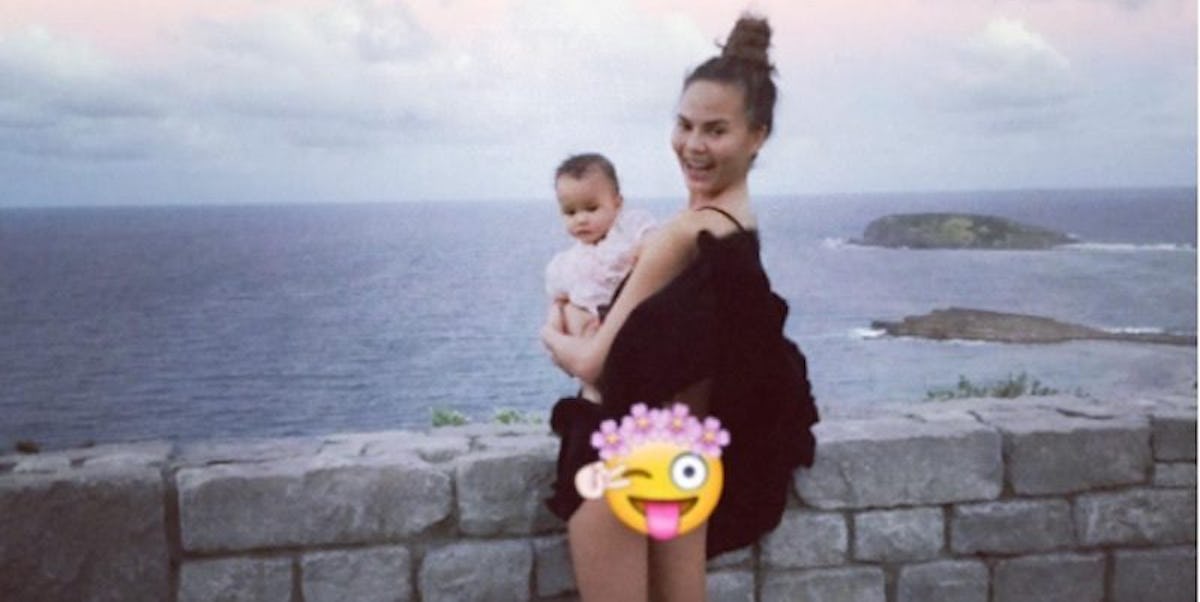 Chrissy Teigen's Mom Catches Her Bare Butt On Camera, Shares It With The World
Instagram
While you were kissing your SO or shoving champagne down your throat on New Year's Eve, Chrissy Teigen was living it up in St. Barts with her fam.
The 31-year-0ld reality star spent the holiday at Nikki Beach with her husband, John Legend, her mother, Vilailuck, and her adorable daughter, Luna.
The family was there for John's NYE performance but decided to extend their vacay to soak up the sun and go swimming.
The group also documented their trip on Instagram.
Chrissy Teigen added a sweet photo of her holding Luna by the water on her tippy toes.
She captioned the pic,
Grey day ballet
Ugh, mother-daughter goals.
However, Vilailuck Teigen decided to post the NSFW version of her daughter on her profile.
IS THAT CHRISSY TEIGEN'S BOOTY I SEE?! Must have been a windy day!
Her mother captioned the photo,
Got you! @chrissyteigen
She also added a bunch of laughing emojis and even covered up Chrissy's bare butt with a flower crown face. I see you, Vil.
Chrissy Teigen's mom added another cute photo of her daughter and granddaughter spending the day together.
LOOK AT LUNA'S LITTLE FACE. She is seriously the cutest baby in the world. Chrissy also posted a photo of her baby in her purple swimsuit, and I can't handle it.
DO YOU SEE THOSE TOES? I'm dead.
John Legend's birthday was December 28, so he got to spend some quality time with his wife and daughter. HAPPY BIRTHDAY, JOHNNY BOY.
I'm not even related to Luna and I want to spend my birthday with her. LET ME BABYSIT YOUR CHILD. LET ME PINCH THOSE CHEEKS.
According to the Instagram photos, it looks like Chrissy's mom is usually the couple's go-to nanny, but like, I'm probably their second pick.
Ha ha ha, right John? Right Chrissy?
You guys? Hello?!
Citations: Chrissy Teigen Butt Photo (Wonderwall)