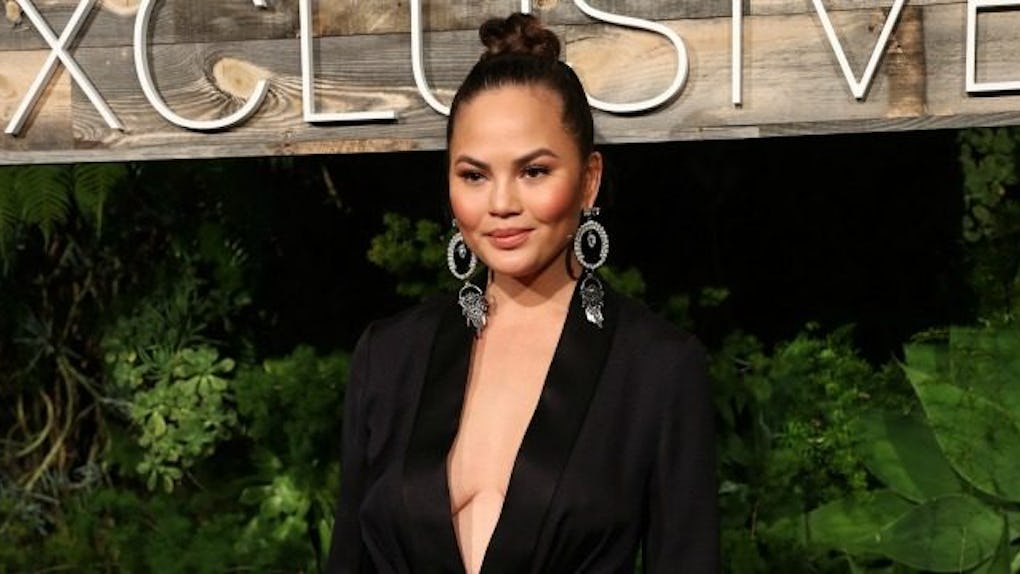 REX/Shutterstock
Chrissy Teigen Struggles To Zip Her Boobs Into A Jumpsuit
Another day, another Chrissy Teigen moment that once again confirms the 31-year-old is the most personable woman on the planet.
Tuesday night, the "Lip Sync Battle" host took to Snapchat to share a video of herself trying to squeeze her boobs into a very tight jumpsuit.
As you're about to see, Chrissy Teigen never stood a chance of zipping her boobs into this jumpsuit, but the fact that she posted the video of her epic struggle makes her our hero nonetheless.
She knew she wasn't getting her girls in this outfit, but Chrissy Teigen is no quitter.
See, I told you.
I'm not so sure John Legend is thrilled with his wife's Snapchat video, but the 31-year-old super model clearly does what she wants.
The above video of Chrissy Teigen and her boobs is funny and sexy and everything we need this Wednesday, but let's not forget about the super model's other recent achievement: helping a fan secure her dream of attending beauty school.
The woman who was aided by Chrissy Teigen is Mercedes Edney.
The 31-year-old Teigen gave Mercedes $5,605 to follow her dream, which is far more than the aspiring beautician asked for on her fundraising page.
Speaking on how overwhelmed she was at the sight of Teigen's gift, Mercedes said,
I thought it was a glitch. I then look at my email and realized it came from my fundraiser. @chrissyteigen donated my entire tuition money for school.
Chrissy Teigen included a note with her donation, where she stated,
I've seen this is your passion for such a long time now. So excited to see you fulfill your dream!
Be a bigger hero, Chrissy!
Though she often comes off as, well, perfect, Chrissy Teigen showed a different side of herself when she opened up about her postpartum depression in an essay for Glamour.
The 31-year-old wrote,
Getting out of bed to get to set on time was painful. My lower back throbbed; my shoulders — even my wrists — hurt. I didn't have an appetite. I would go two days without a bite of food, and you know how big of a deal food is for me. One thing that really got me was just how short I was with people. I would be in my dressing room, sitting in a robe, getting hair and makeup done, and a crew member would knock on the door and ask: 'Chrissy, do you know the lyrics to this song?' And I would lose it. Or 'Chrissy, do you like these cat ears, or these panda hands?' And I'd be like: 'Whatever you want. I don't care.' They would leave. My eyes would well up, and I would burst into tears. My makeup artist would pat them dry and give me a few minutes.
She added,
Postpartum does not discriminate. I couldn't control it. And that's part of the reason it took me so long to speak up: I felt selfish, icky, and weird saying aloud that I'm struggling. Sometimes I still do. I'm speaking up now because I want people to know it can happen to anybody, and I don't want people who have it to feel embarrassed or to feel alone. I also don't want to pretend like I know everything about postpartum depression, because it can be different for everybody. But one thing I do know is that — for me — just merely being open about it helps.
Simply the best.
Citations: Zip sync battle! Voluptuous Chrissy Teigen tries in vain to squeeze her large assets into tight zip-up outfit (DailyMail.com)