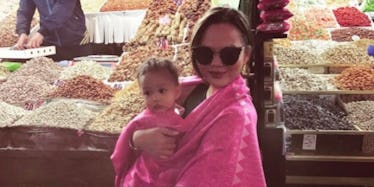 Chrissy Teigen Gives The Best Advice For Women Who Are On The Fence About Kids
Instagram
Supermodel Chrissy Teigen is a lot of things to a lot of people, but if you ask her, she'll probably say her most important role is being a mom to her daughter, Luna Simone.
The 31-year-old is a Sports Illustrated Swimsuit model, a "Lip Sync Battle" host and a best-selling author, but somehow, she always manages to appear completely involved in her daughter's life.
Teigen can clearly juggle her thriving career and motherhood, but that's not to say every woman can do the same.
In a recent interview with Refinery29, the 31-year-old offers up some very real advice for women thinking about having kids and describes what motherhood has been like for her.
First, she addresses those women who have doubts about having children, saying it's completely OK.
While discussing the assumption all women want to be mothers, Teigen says,
I think it's really commendable to even doubt the process out loud, because I don't feel like people should be pressured to have children. I don't think any of us should assume all women's goals are to have kids. It's a choice!
Preach, Chrissy!
The SI Swimsuit model also opens up about the worries she had before Luna was born.
There's naturally pressure when deciding whether or not to get pregnant... and once you do, it's equally as stressful.
Teigen adds,
I didn't really have any fears in having a kid, just because I knew that I wanted one and we worked so hard to have her. But I have to say, even when we did the IVF process and then actually conceived, I looked at John and was like, 'Oh my god, is this right? Were we just jumping into this?' And I will also say that a lot of the fear comes from other people; if I had listened to all of my friends, I would have been terrified of pregnancy.
I can only imagine what that process is like.
Once you are a mother, there are of course a million things to worry about when it comes to your child — and even yourself.
Speaking on the fear of possibly losing her identity after becoming a mom, Teigen says,
You definitely do have to change. You just have to. But a lot of my friends and I joke whenever I go out, like 'Oh, here goes cool mom,' or if I ask for a braid in my hair, they're like 'Oh, you want to be cool mom again!' You naturally change because there's something else that consumes your mind at all times, and I don't think you can help that, but you can still be cool!
Chrissy's a cool mom, OK?!
Though deeply devoted to her daughter, Teigen sees no reason a career and motherhood cannot go hand-in-hand.
Speaking on her plans for 2017, the model says,
I just started working on the cookbook again yesterday. As I talked about in my essay, I was going through a really dark time, so I had started the cookbook, and then I had to completely put it on pause, because it was a lot for me. So as of yesterday, I started doing really great, and I really got back into the mode of cooking. I'm really starting to feel like myself again.
It's amazing to see a woman as talented as Chrissy living her best life.
The 31-year-old adds,
It's funny, I'm excited for the tour because John on tour is a lot less work than him in the studio. On tour, you do a two-hour show, and that's your commitment. So during the day, we get to go with Luna to aquariums, and we get to cruise and I can tweet my followers and ask what they think the best restaurant in that city is. It's really fun. "Lip Sync Battle" also starts again in the fall.
She notes how everything has come together "really well."
Keep crushing it, Chrissy!
Citations: Chrissy Teigen On Changing How We Talk Motherhood, Vita Coco, & Cravings Part 2 (Refinery29)