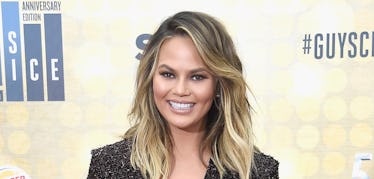 Chrissy Teigen's '4:44' Tweets Are Everything You Were Thinking Yesterday
Frazer Harrison/Getty Images
What did you do yesterday? Or, well, does it really matter? We all know that we all did the exact same thing — freaked out over the abundance of Knowles-Carter family news and the blessing that was JAY-Z's new album, 4:44.
And everyone's favorite Twitter virtuoso, Chrissy Teigen, was right there with us with a hilarious tweet about 4:44.
Truth, Chrissy.
With all the Jay and Bey news that came out yesterday — from their new twins' rumored names to the release of 4:44 — it was a really, really bad day to be doing anything else that you want, oh, anyone, to care about.
On Twitter, people took the joke and added a dig at JAY-Z's streaming service, Tidal.
Teigen came back good and snarky, poking some fun at Tidal.
People who signed up for the service's free trial haven't been able to access the new album, which is exclusive to existing Tidal and Sprint subscribers, Variety reported on Friday. Fans are not happy, and the marketing around the album, which encouraged people to subscribe to Tidal's free trial, has left some saying they "feel scammed."
Of course Teigen had something to say about that, too.
Everyone else on Twitter chimed in, suggesting how Teigen could best share her supposed musical bounty with the world. Looks like it's time to go brush off your MySpace account.
Is it bad that Kazaa almost feels like a legitimate option?
Good news, though, for both fans of JAY-Z and Teigen — 4:44 is only supposed to stay exclusive to Tidal for a week before it becomes available on Apple Music as well, Variety also reported.
Is it too much to hope that Teigen will grace us on other platforms as well? After all, Cingular has been defunct for just about a decade now. Don't hold out on us now, Chrissy.