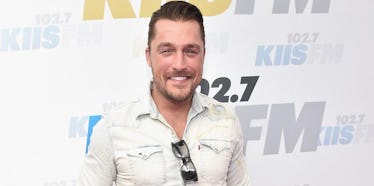 Chris Soules' Chilling 911 Call In Alleged Hit-And-Run Has Been Released
Getty Images
Former "Bachelor" Chris Soules was arrested after an alleged hit-and-run accident in Iowa on Monday night that left one man dead.
He was formally charged with leaving the scene of a fatal car accident and was released on a $10,000 bond on Tuesday.
On Wednesday, TMZ obtained audio of the phone call Soules made before allegedly leaving the scene of the crash between the truck and a tractor.
In the recording, you hear what appears to be an extremely emotional and distraught Soules tell an operator "there's no address," before stating,
I rear-ended a guy on a tractor.
Through what sounds to be heavy breathing, Soules tells the operator the guy on the tractor is "injured," later saying, "He's not conscious."
Soules can be heard on the recording stating that the victim "doesn't appear to be breathing."
You can also hear in the recording another unidentified man on the scene beginning to give the victim CPR after Soules says he doesn't know how. Soules then asks the operator if he can call back.
The victim was identified as 66-year-old Kenneth Mosher of Aurora, Iowa, according to TheCourier.com. Mosher was taken by ambulance to the hospital, where he later died.
Police reportedly later found Soules at his house after he was identified by witnesses at the scene. It apparently took police hours to obtain a search warrant to get into his home, TMZ reports.
On Tuesday, a rep for Soules released a statement to Elite Daily, saying,
Chris Soules was involved in an accident Monday evening (April 24) in a rural part of Iowa near his home. He was devastated to learn that Kenneth Mosher, the other person in the accident, passed away. His thoughts and prayers are with Mr. Mosher's family.
While Soules has not been charged with any alcohol-related offenses at this time, TMZ reports that police documents indicate he had alcoholic beverages on him at the time of the crash.
While the internet reacted strongly to the news of the reality show contestant's arrest, a man who is closely tied to the victim spoke to People on Tuesday and came to Soules' defense. Robert Roepke, whose daughter is married to Kenneth Mosher's son, said,
I believe it was a very tragic, sad accident that took the life of a guy that was just coming home from work. This is corn planting time, the best time of the year for a farmer. Kenny was working on one of the farms just a little north of Aurora and I think he was just coming home. For Chris, what happened was just a freak accident.
Roepke continued,
Chris comes from a good family and is still well-vested in farming. He's got a great life ahead of him. This is a serious bump in the road and I don't know about his [alleged] alcohol issue, but I just know that this was a huge mistake. It's something he's going to have to deal with for the rest of his life. It just ended very tragically.
If Soules is found guilty, he could face jail time.