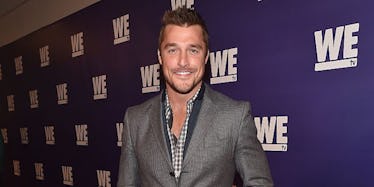 Could Ex-'Bachelor' Chris Soules Go To Jail For His Alleged Hit-And-Run?
Getty Images
"The Bachelor" star Chris Soules was arrested on Monday night for alleged involvement in a fatal hit-and-run. He has been charged with leaving the scene of a fatal car accident.
If Soules is found guilty, he could be facing a tough penalty, including jail time.
Soules allegedly drove a Chevy pickup truck into a tractor trailer at 8:20 pm on Monday in his home state of Iowa, according to TMZ.
The John Deere tractor trailer was sent into a ditch after the hit, according to documents. An ambulance took the tractor driver to a hospital, where he later died.
Documents from police state Soules reportedly had alcoholic beverage containers on him when the crash happened, according to TMZ. He was not charged for any alcohol-related incidents, however.
Soules was booked on a charge of leaving the scene with a death, which is a serious crime in Iowa.
It's law in Iowa that drivers have to stop after an accident. General state law dictates that when a driving accident includes an injury or death, any driver involved in the accident "shall immediately stop the vehicle at the scene of the accident or as close as possible."
If a driver involved in an accident that resulted in a death does not stop — i.e., if it's a hit-and-run — that person faces a class D felony charge.
The maximum sentence for a class D felony is five years in prison and a $7,500 fine if they haven't committed another crime, under Iowa law. TMZ noted that Soules is currently being held on a $10,000 cash bond.
Local news affiliate KWWL.com reports that Soules' preliminary hearing has been set for May 2.
Soules could also potentially face charges for having alcoholic beverage containers.
Reports indicate that police found Soules in possession of alcoholic beverage containers at the time of the accident, according to TMZ, but TMZ doesn't specify if the containers were open in Soules' vehicle at the time of the alleged hit-and-run.
It is illegal in Iowa to have open containers in a motor vehicle. This would be a simple misdemeanor, if found guilty.
A person found guilty of a simple misdemeanor in Iowa could face up to 30 days in jail or a fine.
A fatal hit-and-run conviction in Iowa could result in a sentence of five years in prison, as well as some fines.
A rep for Chris Soules gave Elite Daily the following statement, saying,
Chris Soules was involved in an accident Monday evening (April 24) in a rural part of Iowa near his home. He was devastated to learn that Kenneth Mosher, the other person in the accident, passed away. His thoughts and prayers are with Mr. Mosher's family.
Citations: 'BACHELOR' CHRIS SOULES ARRESTED AFTER FATAL CRASH (TMZ)