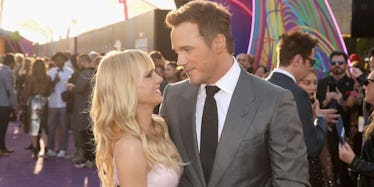 These 6 Adorable Chris Pratt Quotes About Anna Faris Will Absolutely Destroy You
Jesse Grant/Getty Images
What the F?! What the actual F?! Chris Pratt and Anna Faris were once the world's most adorable couple on planet Earth, but now they're breaking up and nobody is OK. Everything sucks, true love doesn't exist, and life isn't fair. I expect breakups with most celebrity couples (to be honest) but Chris Pratt and Anna Faris? It's just not right! Pratt has also been known to gush about Faris in the most adorable, beautiful ways. But that's all over with now. These Chris Pratt quotes about Anna Faris will make your heart melt into a goopy pile of celebrity breakup sadness. Ugh.
On Sunday, August 6, Chris Pratt and Anna Faris announced on social media they are "legally separating." The famous actors, who have been married for 8 years, posted a soul-shattering message on Facebook and Twitter to share the news. Elite Daily reached out to Pratt and Faris' team for comment, but did not hear back in time of publication.
Pratt wrote on Facebook,
Anna and I are sad to announce we are legally separating. We tried hard for a long time, and we're really disappointed. Our son has two parents who love him very much and for his sake we want to keep this situation as private as possible moving forward. We still have love for each other, will always cherish our time together and continue to have the deepest respect for one another.B
Below, check out some of the sweetest quotes Chris Pratt has ever said about Anna Faris.
1. On how he loved Anna the minute he met her
Pratt shared his love for Anna Faris in People Magazine in 2012 saying, "It took a while for me to admit it, because it would be crazy to be like, 'I want to marry you' the first day I met [Anna]. But I could have!"
 2. On believing in destiny
The Guardians of the Galaxy actor gushed about Faris in a Reddit AMA interview from 2015 saying, "Anna and I are meant to be together. Our relationship has made me believe in divine intervention and destiny."
3. On Instagram
"Just spent the most amazing night in #Paris with my dear sweet and amazing wife @annafaris I mean... just look at her. Back in the U.K. now and back to work. Happy (European) #mothersday to my sweetie and all the moms in Europe. We love you!"
4. On dedication
"You've given me so much, you gave me the greatest star in the galaxy, my little boy," Pratt said during his Hollywood Walk of Fame speech. "Without it, none of this means anything to me. With every challenge, we become more bonded. You're very caring and thank you for your trust and sacrifice, and I will do my best to protect it. You have my heart, my dedication, my trust. Without you, none of this means anything."
5. On compatibility
"I knew that I was going to marry her. It was like magnets," The Parks and Rec alum told Elle Magazine in 2015. "Our personalities meshed, she was a goofball, she liked to have fun, it was impossible to offend her. I just remember thinking, 'Wow, in another life, that's who I want to be with — we would be so good together, I just know it.'"
6. On their forever partnership
At the 2016 MTV Movie Awards, Pratt said, "It's just as important, if not more important, to focus on your relationship with your partner because your children are going to leave one day [and] you have to maintain a relationship that's going to outlast your child's needs for you."
I guess we don't have #relationshipgoals to look up to anymore. *Sigh*