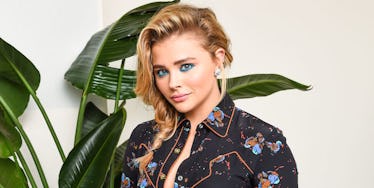 Chloë Grace Moretz Went To 'The Bachelor' Mansion And We're So Jealous
REX/Shutterstock
Chloë Grace Moretz has been single for, like, five seconds and she's already sashaying around the "Bachelor" mansion, looking for true love.
Following her August split from the Prince of Jailbait Kingdom, Brooklyn Beckham, Chloë stopped by the set of "The Bachelor" to snap a few pics with her friends and steal season 21 star Nick Viall's heart.
The "Neighbors 2: Sorority Rising" actress shared a collage of photos from her visit on Instagram, one of which was a tribute to Tierra's tumble down the stairs.
The odds Chloë will end up with Nick are slim. After all, she's way too busy to stick around the ol' mansion to shoot an entire season for six wee — wait, six weeks? That can't be right. There's NO WAY these contestants fall in love over the course of six weeks.
Oh, it's six weeks? For sure? Hm. OK. Wow.
Well, Chloë is still too busy to hang around and film a reality dating show. She may be single, but the 19-year-old has a hectic schedule.
Last month, Chloë Grace Moretz posed for the cover of Teen Vogue.
She celebrated her brothers' birthdays.
She registered Michiganders to vote.
She held a sign.
No, like really, she HELD that sign.
She chilled in the puppet closet with bestie Zoey Deutch.
No word yet on whether "puppet closet" is a euphemism for something crazy, like party drugs or eyeball sex (I'm sorry. I'm not cool and no one tells me anything).
She went to SoulCycle.
This last one is actually pretty anticlimactic. My bad.
If things slow down for Chloë after Nick's already proposed to the love of his life, she can just throw her energy into another Kardashian feud.
She loves it. They love it. We love it. It's a win/win/win.
Citations: What's Chloë Grace Moretz Doing In The Bachelor House With Nick Viall? (Refinery 29)