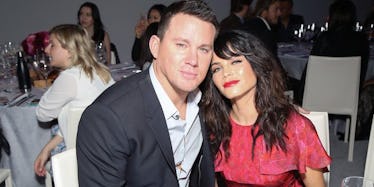 Channing Tatum's Proposal To Jenna Dewan Will Make You Seriously Jealous
REX/Shutterstock
Channing Tatum and Jenna Dewan's proposal story is absolutely insane.
In the hierarchy of couples in Hollywood I'd actually want to hang out with IRL, Channing and Jenna are without a doubt on top of the list. They're super fun, clearly not tied up with outlandish Hollywood culture...
...and oh yeah, they also look like this.
And this.
The question is, though, how does someone even go about proposing to someone like Jenna? I mean, I get that he's Channing Tatum and everything, but Jenna seems like she could easily be a senator or married to one of Princess Diana's kids if she really wanted to do either of those equally noble things.
As it turns out, the story of how they ended up engaged is pretty insane.
According to People, Tatum asked Jenna to marry him in 2008 while the two were on a trip to Maui. In honor of the occasion, Channing flew out her close friends for the proposal, a fact that Jenna was completely unaware of.
When everything was in order, he popped the question in front of everyone he had brought down to Hawaii and gave her the Neil Lane ring.
Jesus Christ that is romantic as hell.
Their relationship has been one big romantic gesture after the next. In an interview with Cosmo, Jenna gave some insight into how they first hooked up, saying,
It was two nights of being weird. We hadn't even kissed. And then he went out partying with a bunch of dancers. His room was right above mine, and he came down drunk with a sombrero on, banging on my door. He was like, 'I couldn't stop thinking about you. Let's do this. I just want to be with you.' From that point forward, we were together.
She went on to elaborate,
… I've always been a very sexual person. We definitely have a very happy and healthy [sex life]. Something about being a dancer connects you to your physical body. It's primal, earthy, sexual energy by nature. You feel your body in a certain way. Channing is very much the same way. He's very in tune with that.
Whooooa, mama. I need a shower.
Citations: Jenna Dewan and Channing Tatum's Proposal Story Is as Romantic as You'd Expect (Pop Sugar)