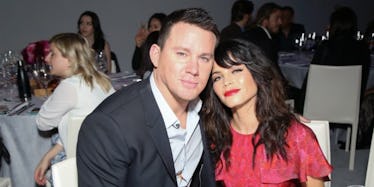 Channing Tatum And Jenna Dewan's Vacation Photos Prove True Love Does Exist
REX/Shutterstock
It seems like every week there's a Hollywood breakup destroying our ability to believe in true love.
Who do we turn to when beautiful people can't make it work? Our parents who have been married for 40-some-odd years? Old couples in Facebook videos who suffer from memory loss and fall in love every day regardless?
Don't make me laugh.
Thankfully, it looks like former stripper Channing Tatum and Jenna Dewan Tatum's relationship is still going strong after all these years.
Just look at the way he grabs her while she holds her top up.
Why can't someone I love grab me from behind while I worry about creepy photographers catching a nip slip while enjoying my beach getaway?!
The "Step Up" couple were seen on a Hawaiian beach on Thursday trying to win the title of "World's Cutest Couple."
For once, I just want to launch the love of my life into Poseidon's arms.
The couple, who have been married since 2009, are frolicking in their love as if to say to us normies (what I call non-famous/ugly people) that Gods do exist.
Jenna posted a few shots from their vacation together on her Instagram, including a shot of the 36-year-old rocking her swimsuit on her beach towel.
I assume the shadow belongs to none other than "Magic Mike" himself.
The couple spent Valentine's Day together in Hawaii, which led Jenna to write about the romantic getaway,
Wake at dawn with a winged heart, and give thanks for another day of loving. Hope everyone feels some love today on Valentines.
Recently, Jenna told Cosmopolitan about their super romantic first kiss. She said,
It was two nights of being weird. We hadn't even kissed. And then he went out partying with a bunch of dancers. His room was right above mine, and he came down drunk with a sombrero on, banging on my door. He was like, 'I couldn't stop thinking about you. Let's do this. I just want to be with you.' From that point forward, we were together.
Be. Still. My. Heart. I'm. Hardly. Breathing.
Citations: Channing and Jenna Tatum's Vacation Pictures Will Renew Your Belief in Love (Elle)