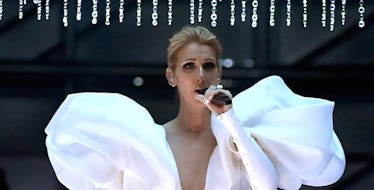 Celine Dion Singing "My Heart Will Go On" At Billboard Awards Will Destroy You — VIDEO
Ethan Miller/Getty Images
I have a confession to make, and not a "confession" in the sense of shame, but more of a confession that clues you in to the very best, most important piece of my DNA: I love Celine Dion. No, actually, that's not enough. I f*cking love Celine Dion. I am ready to stop, drop, and karaoke some Celine any time, any place. (But I also hate singing in front of people. Yolo.)
So when Celine Dion sang "My Heart Will Go On" at the Billboard Music Awards in honor of Titanic's 20th anniversary, I felt like I was right back on the sinking ship with Rose, Jack, and Mr. Andrews. After watching, I also now feel like a shell of my former self.
During a touching tribute performance where Dion stood poised between a literal cascading chandelier of diamonds, as images from the film played on the screen behind her, I cried hysterically Dion powerfully reminded a packed audience not only of the classic, beloved film, but also of the staying power a truly iconic, legendary, emotionally loaded song yields. And unsurprisingly, she solidified her place among the greats while doing so.
Titanic was a film that wholly changed the cinematic playing field. For many people it's one of those films that is worth watching and re-watching every single time it airs. No matter how familiar you are with the ending, there's nothing like the first flashes on the screen: young love; the iceberg; the blistering cold; the image of Jack sinking below.
Watching Dion perform "My Heart Will Go On" is very much like that. No matter where you are, no matter what you're doing, you stop. You listen. You sing along.
In early 2016, Dion's husband René Angélil died of throat cancer at the age of 73. Following his death, Dion spoke candidly about what life in his wake was like. She told People, "I really, really want to prove to my kids their mother is strong. René always insisted the show must go on. You know what, I'm 48 years old and I lost the love of my life. I miss him a lot from when he was great but not when he was suffering. I cannot be selfish. You have to let people go. I feel at peace."
That same year Dion was honored with the ICON Award at the 2016 Billboard Music Awards, an honor bestowed on her after she took the stage to perform Queen's "The Show Must Go On." Executive producer of the show Mark Bracco said: "Celine Dion has a huge repertoire of monster hits and she personally chose to perform 'The Show Must Go On' as her ICON performance on the Billboard Music Awards. I think at this moment in her life, the song has many meanings and it's an amazing choice."
It seems only fitting that, this year, she's back singing another timeless classic, but also another song flooded with meaning.