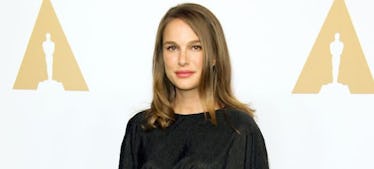 These 7 Female Celebs Were Paid Less Than Their Male Co-Stars And It's Infuriating
Getty Images
It's no surprise a wage gap between men and women exists, especially in Hollywood.
I really didn't set out to make this about gender inequality. I thought it would be interesting to see what poor suckers are getting paid less than their co-stars. Not so surprisingly, women are the suckers, like, in every single instance.
These pay gaps are disappointing, but also a little surprising. You would think payment would be fair among these A-listers.
Below are seven actresses who were surprisingly paid less than their male co-stars.
1. Jennifer Lawrence In American Hustle
Jennifer Lawrence is an Oscar-winning actress. That's about as high caliber as you can get in Hollywood.
Lawrence found out she was making 2 percent less than her male co-stars in the worst way possible — through the internet. Sony got hacked and among the information leaked were the salaries of the celebs in American Hustle.
It was revealed that Christian Bale, Bradley Cooper, and Jeremy Renner were receiving 9 percent of the movie's profits, while Lawrence and Amy Adams were only receiving 7 percent.
2. Charlize Theron In The Huntsman: Winter's War
Charlize Theron as the Evil Queen literally gave me goose bumps. I was pumped for the Winter's War sequel, but was disappointed to learn Theron had to fight for her equal pay.
When she found out she was making significantly less than Chris Hemsworth, Theron held out until she received the same pay: $10 million.
3. Tracee Ellis Ross In Black-ish
According to Variety, Tracee Ellis Ross makes $80,000 per episode for her role on ABC's Black-ish. Her male co-star, Anthony Anderson, makes a reported $100,000 per episode.
They both have equal roles, and (I would argue) have the same star status. Not cool, ABC.
4. Robin Wright In House Of Cards
Claire Underwood seriously makes House of Cards what it is. I mean, does Frank exist without Claire?
In 2014, it was reported that Kevin Spacey was making a whopping $500,000 per episode, while Robin Wright was making $420,000.
Besides directing many episodes, Wright is an executive producer on the Netflix hit and won a Golden Globe for Best Actress in a Drama. She demanded and received equal pay to Kevin Spacey in 2016.
5. Daisy Ridley In The Force Awakens
Reportedly, Daisy Ridley made 50 times less than Harrison Ford in The Force Awakens. For those of you saying it was her first big role and Harrison Ford is such a huge star and blah, blah, blah, blah — I get it.
Harrison Ford being a bigger name than Ridley is a legitimate argument, but fifty times less money? Ford was reportedly paid an alleged $10-$20 million to reprise his role, while Ridley was paid in the $100,000-$300,000 range. That seems ridic.
6. Natalie Portman In No Strings Attached
I love this rom-com. You can't get better than the chemistry between Natalie Portman and Ashton Kutcher. You know what does have strings attached? Paycheck stubs. It was reported that Portman made three times less than Kutcher for this movie.
In February 2017, Portman was on the cover of Marie Claire U.K. In her interview she talked pay packets, presidents, and playing Jackie O. During the interview, the pay discrepancy between her and Kutcher was brought up. Portman told Marie Claire U.K.,
I wasn't as pissed as I should've been. I mean, we get paid a lot, so it's hard to complain, but the disparity is crazy ... Compared to men, in most professions, women make 80 cents to the dollar. In Hollywood, we are making 30 cents to the dollar.
7. Angelina Jolie In Mr. and Mrs. Smith
You may remember the movie that ruined Brad Pitt and Jennifer Aniston. I'm not bitter. I mean, whatever, I'm over it. My love for Jen Aniston aside (#TeamJennifer), it's total BS that Angelina Jolie was only paid half of what Brad Pitt made for Mr. and Mrs. Smith.
While some women fight and win equal pay, there's still a definite wage gap between males and females. I'm hoping to see more progress on this issue in the future. You're better than this, Hollywood.