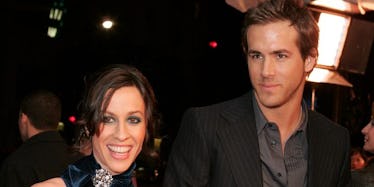 9 Celebrity Engagements You Definitely Forgot Ever Existed
REX/Shutterstock
Ah, engagement season. It's that wonderful time of year when the warm weather inspires people young and old to legally bind themselves to another human being, forever.
But for those who won't be spousin' up this spring, this time of year can feel a little isolating. Maybe that's why some vindictive single person decreed April 14 "National Ex-Spouse Day." Seriously, what kind of holiday is that?
Thankfully, there's always one group of people we can rely on to remind us that love is fake and will inevitably crumble: celebrities!
There is no better example that engagements don't mean forever than celebrity engagements. Celebrities are constantly getting engaged and then breaking up mere months later.
In fact, many of these celebrity engagement turnovers are so quick, you can't even remember who was going to marry who at one point or another.
That's where I come in. I hope these forgotten, failed attempts at marriage make you feel a little bit better today, on National Ex-Spouse Day.
Before Blake Lively, Ryan Reynolds was ready to tie the knot with alternative rock singer Alanis Morissette.
Engaged: June 2004.
Broke up: February 2007.
Married?: No.
I know you remember Kris Humphries, but don't forget about Kim K's first love — music producer Damon Thomas.
Engaged: Well, technically the couple eloped in 2000 when Kim was just 19 years old.
Broke up: February 2004.
Married?: Yes, for four years.
3. Kanye West and Alexis Phifer
Kim's not the only one who almost spent the rest of her life not being Kimye — before Amber Rose, Kanye was engaged to designer Alexis Phifer.
Engaged: August 2006.
Broke up: April 2008.
Married?: No.
4. Sophia Bush and Chad Michael Murray
Super fans of "One Tree Hill" may remember Brooke Davis and Lucas Scott were actually married IRL... until they weren't anymore.
Engaged: May 2004.
Broke up: September 2005.
Married?: Yes, for five months. 
5. Drew Barrymore and Tom Green
Remember when Drew Barrymore got engaged to her "Charlie's Angel" costar, comedian Tom Green? Me either.
Engaged: July 2000.
Broke up: December 2001.
Married?: Yes, for five months.
6. Madonna and Sean Penn
The older crowd may remember Madonna and Sean Penn's highly publicized relationship... and breakup.
Engaged: 1985.
Broke up: December 1989.
Married?: Yes, for four years.
Before the demise of Brangelina, first there was Bilangelina. And it was gross.
Engaged: 2000.
Broke up: June 2002.
Married?: Yes, for two years.
8. Julia Roberts and Kiefer Sutherland
Shout out to Julia Roberts for calling her marriage to Kiefer Sutherland off just three days before the wedding.
Engaged: 1991.
Broke up: June 8, 1991
Married?: No.
9. Carson Daly and Tara Reid
It was the "Total Request Live" romance that no one asked for! And it was over pretty quickly.
Engaged: October 29, 2000.
Broke up: June 2001.
Married?: No.
Happy National Ex-Spouse Day, everyone!