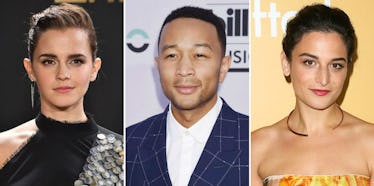 18 Insanely Smart Celebs That Graduated From Ivy League Colleges
Getty Images
Ah, college. How I miss thee and your disgusting dorm rooms.
I went to Penn State, and let me tell you, when I say we had disgusting dorm rooms, I freakin' mean it. I'm talking pee-on-the-walls-of-the-elevators-in-the-freshman-dorm-buildings disgusting.
But you know what schools don't have disgusting dorm rooms? Ivy Leagues. And you know who's not a celebrity but likes to pretend she is? Me.
Unsurprisingly, there are lots of celebrities who got their college education from Ivy League schools.
There are eight Ivy League colleges: Yale University, Harvard University, Cornell University, Columbia University, University of Pennsylvania, Princeton University, Brown University, and Dartmouth College.
So, here's a list of your favorite celebrities who graduated from an Ivy League school, and none of them are me. Sorry. I know you're sad.
John Legend, University of Pennsylvania
John Legend is a high-key musical genius as well as a high-key genius all around. He graduated from the University of Pennsylvania in 1999 with a major in English, but he was also accepted to and offered scholarships from Harvard, Morehouse, and Georgetown.
A year before his graduation, a friend from school introduced him to singer Lauryn Hill. She asked him to play piano on her song "Everything is Everything." Another college friend introduced him to Kanye West in 2001, and they ended up working together later.
Oh, and he also graduated a year early.
Emma Watson, Brown University
Emma Watson graduated from Brown University in 2014, but during her years at Brown, she had to take some time off in order to film Harry Potter and the Deathly Hallows.
Her decision to attend Brown was big news because she already had a successful acting career. She took time away from it in order to pursue higher education.
Jenny Slate, Columbia University
Before Slate voiced Marcel the Shell, before she was a featured actor on SNL and fired from the show for saying "f*ck" live on air, and before she had a recurring (read: fantastically amazing) role on Parks and Recreation, Slate attended Columbia University and graduated in 2004.
She was most recently in the film Gifted, which co-stars her now ex-boyfriend, Chris Evans.
Kate McKinnon, Columbia University
Saturday Night Live's superstar graduated with a major in theatre from Columbia University in 2006, two years after Jenny Slate.
McKinnon is now the only person to ever win an Emmy for their performance on SNL. So, like, she's objectively fantastic and wonderful and I love everything about this woman. 
Meryl Streep, Yale School of Drama
Queen Meryl Streep went to Vassar College for her undergrad and got her master's of fine arts from Yale School of Drama. She graduated in 1975 and has since become one of the most award-winning actresses in history.
WE MUST BOW DOWN TO THIS QUEEN.
Tarell Alvin McCraney, Yale School of Drama
McCraney just won an Oscar for his work on Moonlight, the film based on his Tony-winning play In Moonlight Black Boys Look Blue.
Just like Streep, he graduated from Yale School of Drama in 2007, and he was recently appointed chair of the playwriting department at his alma mater.
He was also good buddies with Bryan Terrell Clark (who currently plays George Washington in Hamilton on Broadway) while they were at Yale. They would spend hours at Krispy Kreme together in order to relax from their intense schedules, Clark told me in an exclusive interview.
Maggie Gyllenhaal, Columbia University
Jake Gyllenhaal's big sis graduated from Columbia University in 1995 with a major in English literature. Fun fact: She took a class from Uma Thurman's father, Professor Robert Thurman, while she was a student there.
Jake Gyllenhaal also spent two years at Columbia, but he never finished.
Lupita Nyong'o, Yale School of Drama
This Oscar-winning actress got her master's degree in acting from Yale School of Drama and graduated in 2012.
Yale School of Drama is consistently listed as the best acting school in the country, so it's no surprise that Nyong'o, McCraney, and Streep have all won Oscars.
Rashida Jones, Harvard University
The Parks and Recreation star graduated from Harvard University in 2003 where she studied acting. She also wrote musical scores for Harvard's Hasty Pudding Club, a social club for Harvard students that's so old and popular, it has its own awards show that honors celebrities every year. And the celebrities actually show up.
This year's Man/Woman of the Year awards went to Ryan Reynolds and Octavia Spencer.
Ellie Kemper, Princeton University
The Unbreakable Kimmy Schmidt star graduated from Princeton University in 2002 and was actually a field hockey player there.
Her mother also graduated from Princeton and was one of the first women to attend the university after it became a co-ed school in 1969.
Oh, and her interest in acting started back when she was a freshman in high school when Jon Hamm was her drama teacher. Literally, Jon Hamm. And now they're on Unbreakable Kimmy Schmidt together. I'm going to file this under "I cannot."
Natalie Portman, Harvard University
This Oscar-winning actress (who recently had her second baby) graduated from Harvard University in 2003 with a degree in psychology.
According to Entertainment Weekly, Portman helped out Aaron Sorkin while he was writing The Social Network by telling him all about what it's like to attend Harvard/Ivy League schools in general.
She also speaks six languages, so there's that.
Shonda Rhimes, Dartmouth College
Shonda Rhimes, the ruler of the massive universe that is primetime television, graduated from Dartmouth College in 1991 where she studied English literature and creative writing.
I assume that's where she learned to RIP PEOPLES' HEARTS OUT BY KILLING OFF ALL THE CHARACTERS THEY LOVE.
OK, wow. That got dark. Sorry.
Mindy Kaling, Dartmouth College
The Mindy Project creator and star also graduated from Dartmouth College in 2001 where she studied theatre.
She likes to joke about her time at Dartmouth in her books like Is Everyone Hanging Out Without Me?, where she said she went to an Ivy League to "pursue [her] love of white people and North Face parkas."
Allison Williams, Yale University
The Girls star graduated from Yale University in 2010 where she majored in English and was part of an improv comedy troupe called Just Add Water.
She landed the role of Marnie Michaels not long after she graduated and most recently starred as the villain in Jordan Peele's hit thriller Get Out.
Tracee Ellis Ross, Brown University
Tracee Ellis Ross, the daughter of singer Diana Ross and star of Black-ish on ABC, graduated from Brown University in 1994 where she majored in theatre.
She also attended the extremely exclusive Institut Le Rosey, a boarding school in Rolle, Switzerland.
John Krasinski, Brown University
The Office star graduated from Brown University in 2001. He originally majored in English, but then switched to theatre. And honestly, thank God for that.
During the first half of his freshman year, he taught English to students in Costa Rica. Because of course he did.
Courtney B. Vance, Harvard University and Yale School of Drama
The American Crime Story: The People Vs. OJ Simpson star got his undergraduate degree in history from Harvard University and graduated in 1982.
He then got his master's at the Yale School of Drama, where he met his now-wife Angela Bassett. He graduated from Yale in 1986 and now is on the Yale School of Drama board of advisors along with Tarell Alvin McCraney.
Angela Bassett, Yale University and Yale School of Drama
Angela Bassett got both her undergrad and graduate degrees from Yale University. She majored in African-American Studies during undergrad and attended Yale School of Drama for her Master's, where she met her now-husband, Courtney B. Vance.
She was recently featured in an episode on Season 2 of Aziz Ansari's Master of None.
And there you have it! A list of celebrities that graduated from Ivy League colleges, and none of them are, or ever will be, me.
Citations: Celebrities Who Went to Ivy League Colleges (Glamour), 47 Smart Celebrities Who Went to Ivy League Schools Read more: http://stylecaster.com/ivy-league-schools-celebrities/#ixzz4hqZiJwnP (Style Caster), 34 Smart Celebs Who Went To Ivy League Schools (Buzzfeed)