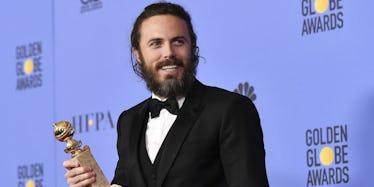 Casey Affleck Called His Sexual Assault Controversy 'Noise' In Acceptance Speech
REX/Shutterstock
On the heels of renewed attention to sexual assault allegations against actor Casey Affleck, he took the stage last night at the 74th Annual Golden Globes to accept the award for Best Performance by an Actor in a Motion Picture, Drama.
Affleck won the award for his role in "Manchester by The Sea."
In his speech, Affleck pointedly commented, "It's my kids who give me permission to do this because they have the character to keep at bay all the noise that sometimes surrounds people who live publicly."
Catch his full acceptance speech in the video below:
It seems this "noise" could be a reference to the 2010 sexual harassment allegations made by two women who worked with Affleck on the hoax documentary "I'm Still Here."
In one circumstance, Producer Amanda White reported Affleck verbally and physically tried to coerce her into sharing a hotel room with him and "ordered a crew member to show her his genitals."
In the other allegation, Director of Photography Magdalena Górka reported she awoke one night to find Affleck lying next to her in bed, stroking her back in nothing but his underwear and a t-shirt.
In addition to these two allegations, both White and Górka reported numerous instances of inappropriate verbal harassment.
Before The Globes, Affleck remained fairly silent on the allegations. However, back in October 2016, he noted in Variety,
People say whatever they want. Sometimes it doesn't matter how you respond. I guess people think if you're well-known, it's perfectly fine to say anything you want. I don't know why that is. But it shouldn't be, because everybody has families and lives.
And later in November, he told the New York Times via email,
It was settled to the satisfaction of all. I was hurt and upset — I am sure all were — but I am over it. It was an unfortunate situation — mostly for the innocent bystanders of the families of those involved.
Reading between the lines, it is clear Casey Affleck feels his family and children are the victims in this sad and all-too-common scenario.
If you need help, you can reach the National Sexual Violence Resource Center or RAINN's National Sexual Assault Hotline.
Citations: Casey Affleck Seemingly Addresses Sexual Harassment Allegations In Golden Globe Speech (Huffington Post), The Media Wants To Quash Casey Affleck's Oscar Chances, But It's Too Late (Huffington Post), How Casey Affleck Found the Role of a Lifetime in 'Manchester by the Sea' (Variety), Casey Affleck Is Making Another Splash, Reluctantly (New York Times)