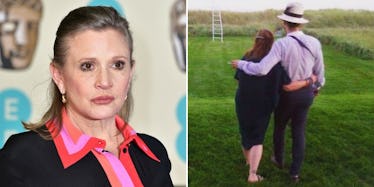 Carrie Fisher Wrote This Song Before She Died And It's Seriously Beautiful
REX/Shutterstock/Instagram
People wouldn't assume Carrie Fisher and Sean Ono Lennon were friends, but the two seem to have a lot in common.
Carrie Fisher died suddenly last year after suffering a heart attack on a plane. She was a respected actress and writer and well-known for her character in the sci-fi classic "Star Wars."
Carrie's father was Eddie Fisher, a famous musician and actor.
Her mother was Debbie Reynolds, a staple of classic Hollywood. She died the day after Carrie.
Growing up with two famous parents -- Yoko Ono and John Lennon -- Sean Ono Lennon could relate to the "Star Wars" actress.
Sean posted on Instagram after Carrie's passing,
I can honestly say that Carrie was one of the best and closest friends I've ever had in my life. She was the smartest, funniest, kindest, and most generous person I have ever known. My heart is completely and permanently broken. This is the kind of loss that you never recover from. I know because I still miss my dad every single day.
Sean and Carrie were so close they wrote a song together, entitled "Bird Song." Sean recently released it on SoundCloud.
He wrote,
This is only a demo unmixed, we only had a few hours to record it. But the lyrics she wrote with me I think are marvelous. Carrie and I used to stay up until dawn chatting and pontificating about life. They were my best moments. Anyway… we wrote a song about staying up too late and hearing the birds sing.
While Carrie is no longer around to help record the song, Sean asked Willow Smith, another daughter of Hollywood (her parents are Will Smith and Jada Pinkett Smith), to help record the song.
Sean said Willow was "generous enough to lend her golden voice to this little tune."
Citations: People Are In Love With This Song Carrie Fisher Wrote Before She Died (BuzzFeed)