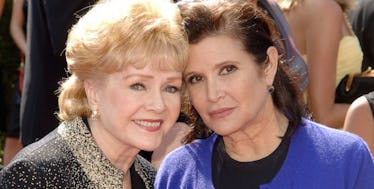 Carrie Fisher's And Debbie Reynolds' Chilling 911 Calls Have Been Released
REX/Shutterstock
Two chilling 911 calls have been released from the nights Carrie Fisher and her mother Debbie Reynolds died.
Carrie Fisher -- best known for her role as Princess Leia in "Star Wars" -- was only 60 years old when she lost her life after suffering cardiac arrest.
According to TMZ, the actress's heart stopped beating while on a United Airlines flight to Los Angeles.
The airline called 911 to notify paramedics one of the passengers was in distress and the plane was 10 minutes away from landing.
The source says Carrie Fisher didn't have a pulse for 10 minutes, but people on the plane who were CPR certified were able to revive her.
A few days later, Carrie died at UCLA Medical Center. Below, you can listen to the upsetting phone call between the airline and the dispatcher.
Just a day later, Carrie's mother, Debbie Reynolds, died following a stroke.
Her son, Todd Fisher, was with his mom at his Beverly Hills home. In the audio below, you can hear someone in the home panicking on the phone as the 911 dispatcher tries to get more information.
According to TMZ, the mother and son were together to plan Carrie Fisher's funeral.
Many fans believe Debbie Reynolds may have died from the pain of losing her daughter.
Grief expert David Kessler, who happened to have a close relationship with the mother-daughter duo, told USA TODAY dying from a broken heart is "absolutely real."
He added,
I think it's extremely under-diagnosed. I think it's more common than we believe.
Todd Fisher reportedly claims his mother's last words were about his sister. According to Todd, Debbie said,
I miss her so much, I want to be with Carrie.
Carrie Fisher and Debbie Reynolds' families plan to hold a joint funeral for the actresses.
RIP, Carrie and Debbie. You will be missed.
Citations: Carrie Fisher 911 Call (TMZ), Debbie Reynolds 911 Call (TMZ)