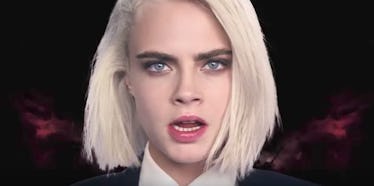 Cara Delevingne Dropped Her First Music Video Ever And Fans Aren't Impressed
YouTube
In August 2015, Cara Delevingne officially cut ties from the modeling industry to pursue life on the big screen. In an interview with TIME, the supermodel got candid about the extreme pressures she felt through modeling and how the career made her feel "constantly on edge." Since then, Delevingne has starred in films including "Suicide Squad" and most recently "Valerian and the City of a Thousand Planets." Now, the 24-year-old may be switching gears once again. Yup, Cara Delevingne's "I Feel Everything" music video just dropped, which means she can officially add "singer" to her list of achievements.
Delevingne's new song is featured on the soundtrack of her latest sci-fi film, so it comes to no surprise the music video has a futuristic feel. However, what was shocking for fans – and ultimately disappointing – was the star's voice.
Fans shared their reaction to "I Feel Everything" in the YouTube video's comment section.
One user wrote,
ugh i love cara but this is awful
Another said,
I'm sorry cara, but I love as a model much more than a singer.
Some fans actually enjoyed Delevingne's voice but criticized how she looked while singing.
is it just me or does she have no soul when she's singing? Her movements are so robotic it's as if she's moving her body for the first time after years of only being asked to look pretty and show attitude with the eyes. Don't know why but this song felt really awkward.... she has a lovely voice but I think she would of suited a slower song.
Cool, well, I think we should probably leave Delevinge alone and let her do her thing. I actually find her voice soothing and sexy, not gonna lie. And I'm not alone on this. Many of Cara Delevingne's fans took to her defense and said her voice was "perfect" and "beautiful."
One fan even began rallying for Delevingne to drop an album.
WHO WANTS CARA TO MAKE AN ALBUM??
At the end of the day, Cara Delevingne is trying to make a name for herself doing something she loves, so it doesn't really matter how fans feel about "I Feel Everything." Kudos to you, girl. Your ambition is admirable AF.
You can listen to "I Feel Everything" for yourself below, but if you're a hater, you might as well GTFO.