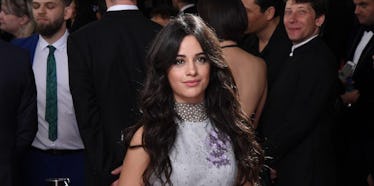 Camila Cabello Made Solo Debut On Grammy Red Carpet And Looked Like A Princess
REX/Shutterstock
In the wave of things that have come to an end in 2016, Camila Cabello made her depart from the female girl group Fifth Harmony to venture out into the big bad world of music on her own.
AND HELLO AMERICA, SHE HAS ARRIVED.
Cabello walked the red carpet at the 2017 Grammys looking like a damn princess, and best believe we all noticed.
Fifth Harmony? More like SOLO MELODY, AMIRIGHT?
Ugh. Sorry.
The 19-year-old singer dressed in a stunning silver, blue, grey, magic? colored Miri Couture dress, embellished in chunky beading bursts, and completed the look with the classic beach-y wave hair.
No confirmation yet if she arrived in a pumpkin that was temporarily turned into a carriage or rode in on a silver stallion, but we can only assume it was one of the two.
Firth Harmony (mmm... Fourth Harmony) first performed without Cabello at the People's Choice Awards, and it was, ya know, OK.
Seeing her tonight, it is clear the singer is set for success on her own, exuding confidence and grace on the red carpet and seemingly totally comfortable standing in the spotlight solo.
And honestly? It's A-OK by me, too.
Yes girl, YES.
Cabello's hairstylist, Marcus Francis, posted a teaser photo earlier today of her showing off her waves and natural makeup in anticipation of the big reveal.
And big reveal she did.
Twirling and blowing kisses on E's slow cam, Cabello made it clear she is not missing her entourage, nor does she need backup.
Additionally, Cabello will be presenting at the Grammys as part of a star-lit list of presenters including Grammy-winner and current nominee Kelly Clarks0n, five-time Grammy winner Celine Dion, actresses Laverne Cox and Taraji P. Henson, pop-funk band DNCE, singer-songwriter Jason Derulo and more.
Only difference between Cabello and Cinderella? Rather than turning back into a maiden at midnight, she's probably going to go to a banging after-party. Fingers crossed for another amazing costume change!