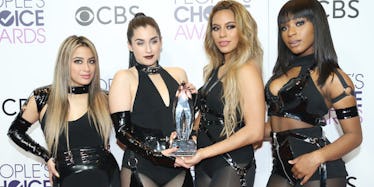 Fifth Harmony Performed Without Camila Cabello And Everyone Had Mixed Emotions
REX/ Shutterstock
When Camila Cabello quit Fifth Harmony, the world did not stop spinning and the remaining four singers did not stop singing.
Last night, the kickass girl group made their debut performance as a foursome at the 2017 People's Choice Awards, and of course, everyone had mixed feelings about it.
In my opinion, Camila was the powerhouse of the group. You know, the Beyoncé of Destiny's Child or the Nicole Scherzinger of The Pussycat Dolls. Without her, something was definitely a teeny, tiny bit off.
Apparently, there are a ton of folks on Twitter who agree with me that Fifth Harmony was desperately missing something in their performance.
As harsh as they sound, I can't disagree. #ComeBackCamila.
Camila's voice was "missing so bad."
"Fifth Harmony really sounds like shit without Camila Cabello."
It doesn't feel the same.
"They're entering the edgy phase after a bad breakup."
They feel "emptiness" without Camila's voice.
People aren't buying it.
They "suck" without Camila Cabello.
"I'm still sad."
OOF. It's OK, girls... shake it off. You have this, with or without your girl Camila.
On the other hand, some people seem to like Fifth Harmony even better without Camila.
Some people prefer them without her.
Fifth Harmony "killed it the 4."
"CAMILA IS CANCELED."
They're loved "more now that they are only 4."
If you haven't watched the performance, check it out for yourself. That way, you can decide whether you personally like Fifth Harmony better with or without Camila Cabello.
Oh, and as much as you're dying to make the joke of the hour, they're not called Fourth Harmony (even though that makes the most sense right now).
Keep doing your thing, ladies. With or without Camila, your fans are still pulling for you.
Citations: Twitter Reacts To Fifth Harmony's Performance As A Foursome At The People's Choice Awards! See The Love & Hate HERE! (Perez Hilton)