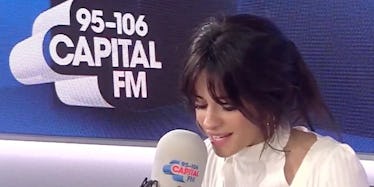 Camila Cabello Covered "Despacito" And Put Justin Bieber To Shame – VIDEO
YouTube
If you haven't seen the clip of Justin Bieber trying to sing "Despacito," but replacing all the Spanish parts with "I don't know the words so I say Dorito," just take my word for it when I say the kid can't speak Spanish.
Sometimes he'll replace "Dorito" with "Burrito," but that's arguably worse.
He did sing the Spanish lyrics to the wildly popular Luis Fonsi track when he recorded the remix, but it appears that may have been a one-time, reading-off-the-page kind of thing. When the clip hit Twitter, reviews were mixed.
Such a varied range of reactions is not unusual when it comes to Bieber doing basically anything in the past five years, but even if you don't think it's racist, not knowing the words to your own song is definitely… messy.
Camila Cabello, however, who was born in Cuba and grew up in Havana, Mexico City, and Miami, speaks — and sings — fluently in Spanish. Before she left Fifth Harmony, she and former bandmate Lauren Jauregui, who is Cuban-American, would frequently speak Spanish to fans and interviewers, making sure to let their audience know they were proud of their heritage.
Cabello is also very outspoken on Latinx issues, talking recently to Teen Vogue with Orange is the New Black actress Diane Guerrero about being Latina in Hollywood and sticking up for her Latinx fans.
When British radio host Roman Kemp asked the young star to sing "Despacito" during an interview, she put the Biebs to shame without lifting a finger.
It's not until you hear Cabello's cover that you realize what you've been missing with the Bieber version. Watch her do a beautiful job below.
Those vocals are swoon worthy.
Luis Fonsi apparently defended Bieber for butchering the words to "Despacito." He told Rolling Stone,
That chorus is not easy to sing, even for fluent Spanish singers like myself ... It's got a lot of lyrics, it's kind of tongue-twisty.